Prince Albert (1819-1861)
© 2007 Armchair Travel Co. Ltd. - This page may be used for non-commercial purposes ONLY!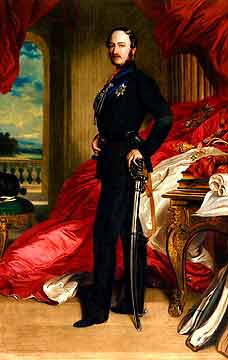 [ Play Narrated and Animated Movie ! ]
[ Virtual Tour ] [ Main Topics Index ]





Prince Albert was born in 1819. He was a cousin of Victoria, and Prince of Saxe-Coburg-Gotha, Germany. In 1840 he married Queen Victoria, and in 1857 was awarded the title - Prince Consort. Albert organised the Great Exhibition of 1851 believing that the promotion of industry may help to alleviate the country's poverty. He died of typhoid fever in 1861.
This is a copy of a portrait by Franz Xavier Winterhalter, who was Victoria and Albert's favourite Court Painter, and who was responsible for a series of portraits of charm and panache which give us our picture of the happy family life of the royal couple.
This is the only portrait of Prince Albert in the Palace of Westminster, but his influence is everywhere in the building. His marriage to the young Queen in 1840, came just when the new Palace of Westminster was at a crucial stage in the planning. Albert was a man of wide education in both arts and sciences and, as President of the Fine Arts Commission, he had great influence in the choice of subjects, and in mapping out the Commission's great schemes of decoration - most of which were never, in the event, to reach fruition. He was closely involved with the artists who won commissions to paint wallpaintings in the new Palace.

His strength of character and his unselfishness attracted the weakness of others while enabling him to lead himself a solitary reliant life, but only at terrible cost. "I go on", he writes, "working at my treadmill".
- Viscountess Dunedin.



Additional Information on
Prince Albert (1819-1861)

Born in 1819 and Prince of Saxe-Coburg-Gotha, Albert was to have a lasting effect both on his wife, Queen Victoria, and his adopted country, England. She proposed to him in 1839 (they were married four months later) and for the rest of his (and her) life, theirs was a true love match. Indeed such was Albert's effect on Victoria that she remained an unmarried widow after his death in 1862.
Albert was widely educated in Brussels and at the University of Bonn, being probably the first member of the Royal Family to attend a university, and was very interested in architecture and art. He was very diligent and hard-working and actively supported and advised his new wife, positively influencing her attitude to her role. Albert ensured that Victoria set a new example of the monarch remaining above party politics, which resulted in her abandoning her Whig preferences. He also influenced some of the Foreign Office despatches so that a less dogmatic line was taken resulting in settlements with Prussia and America that might well have escalated into conflict without his interference.
Naturally this did not sit well with some of Victoria's ministers or with the aristocracy generally. Albert was resented in some quarters for the higher moral attitude now exhibited by the Court and there was some envy over his artistic capability and air of learning even though he was as happy and efficient in the sporting arena as they were.
After designing Osborne House on the Isle of Wight, Albert had a great impact on the promotion and design of the Great Exhibition in 1851. Here his practical skills and artistic talents found full range and the Exhibition, which was to provide a platform for British skills of design and manufacture, was a tremendous success. The Great Exhibition provided a model for countless such ventures in the future, indeed when Albert died in 1861 he was planning the South Kensington Exhibition. Albert was also heavily involved in the design and decorative schemes of the Palace of Westminster, particularly that in the House of Lords.
Unfortunately, his practical mind turned to solving the problems of the drainage and sewerage at Windsor Castle, which was becoming a serious problem, and whilst investigating the system, he caught typhoid fever and died. Albert was mourned by Victoria for the rest of her long life, as manifested in her preference for black clothing ever after.

QUOTATIONS
...When in doubt about 'who's to blame', play Prince Albert, it is always a trump card, and ten to one it takes the trick.
- Prince Albert: Why is he unpopular?
The Prince is become so identified with the Queen, that they are one person, and as He likes and She dislikes business, it is obvious that which she has the title he is really discharging the functions of the sovereign. He is King to all intents and purposes.
- Charles Greville, Memoirs.
... His Royal Highness ought to be considered... as an Alter Ego, and not as a Privy Councillor, and [that] this communication was the inevitable result of a female being on the throne.
- Lord Campbell, Statement to Lords, 1854.
Unquestionably, he acted in many instances as a human lightning conductor, providing a convenient target for those sections of the Press and Parliament who feared to criticise the Queen herself.
- Robert Rhodes James, Observer, 1965.
It is one of the puzzles of his life that with all his conscientious and admirable work and his really great ability he did not make people like him.
- Bernard Darwin, 1932.
Explore-Parliament.net: Advanced Category Search
Keyword Categories:
_Consort
_Royal_Family
_Person
_Man
_Artist_after_Winterhalter
_Albert
_Object_Portrait
_Object_Artwork
_Object_Painting