Queen Charlotte (1744-1818)
© 2007 Armchair Travel Co. Ltd. - This page may be used for non-commercial purposes ONLY!


[ Play Narrated and Animated Movie ! ]
[ Virtual Tour ] [ Main Topics Index ]





Queen Charlotte, wife of George III, was born in 1744. She married George in 1761, only six hours after they first met each other. Unfortunately, in 1765 the first signs of George's illness emerged - and Charlotte was to spend the rest of her life nursing him through it. However, theirs was a successful marriage and it lasted over fifty years, until Charlotte's death in 1818.
This is a copy, by the Reynolds studio, of the Reynolds portrait of Queen Charlotte which made a pair with that of her husband, also in the Royal Gallery. Though Sir Joshua Reynolds had held the position of the King's principal portrait painter, the royal couple avoided sitting for him. The 1779 painting of which this is a copy is the first, and indeed only, Reynolds portrait of them. When he was awarded his position as court painter, Reynolds compared it, unfavourably, with that of His Majesty's Rat Killer:
The salary is £38 per annum, and for every full-length I am to be paid £50, instead of the £200 which I have from everybody else. This new honour is not likely to elate me very much.
- Reynolds.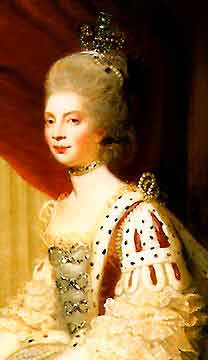 Additional Information on
Queen Charlotte (1744-1818)

It was a surprise to almost everyone when George III, who was enamoured of the beautiful Lady Sarah Lennox, chose as his wife the 17-year-old daughter of the ruler of a small and impoverished German principality (Meclenberg Strelitz). Although Charlotte was notably ill-dressed and uneducated and could never be described as fair, she was a good musician and linguist and it was these qualities which initially endeared her to him. It turned out to be one of the best decisions of George's life. They were the perfect loving couple and Charlotte provided him with no less than 15 children, starting the year after their marriage in 1761, and continuing almost every year until she was 38 in 1782.
George was very mean and the family lived in considerable discomfort with the minimum of food, clothes and even heating. They kept their children to minimal allowances which was to cause resentment and trouble when they grew older. The court was consequently a dreary and miserable place for everyone else although they were quite happy with their musical interests and enjoyment of horse racing.
The problem they faced first occurred after 1765, when the uneducated George, after endless rows with his ministers, had a complete breakdown. Charlotte tried to keep him in seclusion at Windsor Castle away from his doctors and ministers, realising that the problem was mental not physical and at length succeeded. George recovered, and it was not until 1788 that the crisis happened again after more quarrels during the war with the American colonies. It must have been particularly trying in a rather puritanical court atmosphere, that the illness manifested itself in George molesting the ladies of the court, and in his ramblings and sexual fantasising.
The following year the Prince of Wales, who had been nearly strangled by his father during one fit, attempted to get the 'Regency Bill' through Parliament but was foiled by Charlotte who managed to get the King seen out in public with his family. Their precarious life continued, (the royal carriage with both of them inside was stoned by the mob in 1801) until 1810 when the King went blind and the Prince of Wales was made Regent the next year. There has been much speculation over the nature of the King's illness, since madness did not occur elsewhere in the family, but it is now believed that he was suffering from porphyria. Charlotte having nursed him for much of the duration of their 50-year marriage, died completely worn out in 1818. George himself died two years later. Her epitaph should perhaps be George's remark that "The Queen, is my physician, and no man can have a better. She is my friend."

QUOTATION
Yes, I do think the bloom of her ugliness is going off.
- Col Disbrowe, her Chamberlain.
Explore-Parliament.net: Advanced Category Search
Keyword Categories:
_Queen
_Royal_Family
_Woman
_Person
_Consort
_Object_Painting
_Object_Artwork
_Object_Portrait
_Charlotte
_Artist_after_Reynolds