Queen Alexandra (1844-1925)
© 2007 Armchair Travel Co. Ltd. - This page may be used for non-commercial purposes ONLY!


[ Play Narrated and Animated Movie ! ]
[ Virtual Tour ] [ Main Topics Index ]





Queen Alexandra was born in 1844, and married Edward VII when she was 19 years old. She was heavily involved in helping various charitable causes - most notably the poor, and the veterans of England's many foreign wars during the period. Alexandra is widely regarded to have been one of the most beautiful Queens of England. She died in 1925.
Like that of Edward VII in this room, this is a copy after Sir Luke Fildes, an artist who started out in the later 19th century as a specialist in a popular, anecdotal style, but gradually focused almost entirely on portraiture.
Alex, as good as she is, is not worth the price we have to pay for her in having such a family connection.
- Queen Victoria.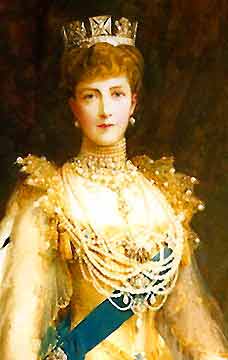 Additional Information on
Queen Alexandra (1844-1925)

One of England's most beautiful Queens, Alexandra had been brought up in relative poverty in Hesse, and was educated soley by her parents (the future King and Queen of Denmark), as tutors were an unaffordable luxury. Although she was not well endowed with intelligence she had a determination and spirit that were to serve her well in the difficult years ahead. On meeting the Prince of Wales, Alexandra was quite taken with him and he was, not surprisingly, overwhelmed by her beauty, and naturally her parents regarded warmly the prospect of a closer relationship with England to counterbalance the threat posed by Prussia.
Their wedding took place in St. George's Chapel at Windsor in 1863 because the Queen was still in mourning for her beloved Albert who had died two years earlier of typhoid. The young couple entered a social round which was to continue almost interrupted until their deaths. They were based in Marlborough House in London, Sandringham and Balmoral and moved freely around the country enjoying the hospitality of wealthy friends. The Prince of Wales, known as 'Bertie' was extraordinarily gregarious and promiscuous with numerous liaisons and mistresses which Alexandra, or 'Alix' did not mind unless they were of high birth. Fortunately he had a marked preference for actresses such as Lily Langtry, with whom she later became friends.
Alexandra and Edward had five children, including two boys, the elder of whom, Eddy, the Duke of Clarence, was born prematurely because Alix foolishly went ice skating when seven months pregnant. It seems that he suffered from oxygen starvation to the brain and was severely mentally handicapped as a result. Alexandra found her mother-in-law very trying particularly when she was forced by her to greet the King of Prussia (married to Victoria's elder daughter Vicky) after he had annexed part of Denmark. It became clear by the 1870's that Victoria's prolonged mourning was having a very negative effect on the popular view of the monarchy but the situation was saved by the Prince of Wales' near fatal attack of typhoid in 1871, after which Victoria was induced to make more public appearances.
The Prince's affairs continued after his recovery without apparently concerning the Princess, until he took up with Lady Brooke, known as Daisy, in 1891. Again the situation was saved by a more important event occurring at the same time, in this case Eddy, who was due to marry Mary of Teck a few weeks later, dying suddenly. Eventually, after 40 years waiting in the wings, kept without a role of any importance, the Prince succeeded his mother in 1901, as King Edward VII.
With the succession settled on George, who was married off to Mary of Teck, Alix spent all her energies on her daughters (enveloping them to the extent that they became embittered) and on numerous charities - the Queen Alexandra Nursing Service was named after her. Alexandra lived on, looking after her grandchildren whenever possible until 1925 when she died of a heart attack and was buried at Windsor. At Edward's lying-in-state she is reported to have said "In spite of all the others, he loved me best".
Explore-Parliament.net: Advanced Category Search
Keyword Categories:
_Queen
_Royal_Family
_Woman
_Person
_Consort
_Object_Painting
_Object_Artwork
_Object_Portrait
_Artist_after_Fildes
_Alexandra