Queen Mary (1867-1953)
© 2007 Armchair Travel Co. Ltd. - This page may be used for non-commercial purposes ONLY!


[ Play Narrated and Animated Movie ! ]
[ Virtual Tour ] [ Main Topics Index ]





Queen Mary, the former Princess Mary of Teck, was born in 1867. Originally, Mary was engaged to Prince Albert Victor, but when he died she then married his younger brother George in 1893. In 1910 her husband was crowned King and she became Queen Consort. Mary lived to 85 years of age, the second longest lifespan of any queen consort.
This copy by H. Macbeth Raeburn after Sir William Llewellyn is signed and dated 1918. It was presented by Queen Mary herself in the same year.
Queen Mary looked like the Jüngfrau, white and sparkling in the sun.
- Henry Channon, Diary, 22nd June 1937.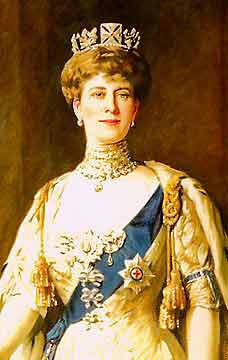 Additional Information on
Queen Mary (1867-1953)

Princess Mary of Teck was born in Kensington Palace because Queen Victoria had taken pity on her impoverished parents - her mother, Princess Mary Adelaide, was a cousin. But by 1883 the debts of her parents were so large that they were forced to flee their creditors and live in Florence for a while, from where they were again rescued by Victoria and given a house in Windsor Park. Having been rejected by society as she lacked beauty and charm, Mary was brought up to Balmoral in 1891 to meet Victoria and be sized up as a possible match for Eddy, Duke of Clarence. Mary passed the inspection with flying colours, the Queen being gratified by evidence of her intellect, gift for languages and pragmatic views.
Eddy's parents, were not so impressed but were only too happy to solve the problem of the future wife of their son and agreed when Eddy proposed and was immediately accepted by Mary. Although this was Mary's opportunity to escape her somewhat desperate home circumstances, she was daunted by Eddy's bad reputation, alleged homosexuality and stupidity, so Victoria ensured that the wedding date was set for early 1892. Perhaps fortunately for all concerned, Eddy fell ill and died a few weeks before the wedding. Mary was almost back where she had started, except that Victoria, and her own mother, were determined that she should marry George, the next in line. In the face of strong opposition from the Wales' Mary pursued George and won him by the next year. They were married in mid-1893 and he was given the vacant title of Duke of York.
They were given quarters in St. James's Palace and over the following twelve years Mary produced six children. However, she was entirely lacking in maternal instinct and handed the children over to a vicious nanny who maltreated them for many years, stunting their development and causing problems for them for the rest of their lives. Her treatment of the retarded John, the youngest was particularly reprehensible.
After Victoria's death they family moved to Marlborough House and there eschewed the raffish royal set, he preferring to attend to his stamp collection and she to her intellectual pursuits. After the death of Edward VII they cleaned out the remnants of the hangers-on and more decadent members of the court. With the rise of cousin Kaiser Wilhelm and the outbreak of war with Germany, they decided that a change of name would be politic so became the House of Windsor. The war brought Mary's exceptional organising talents to the fore and she gained the respect of the population for her war work. After the war she shared the problems created by David, the Prince of Wales, with her husband who died soon after their Silver Wedding celebrations in 1935. Mary was determinedly opposed to David's (Edward VIII) marriage to the American divorcée Wallis Simpson and showed no emotion at his enforced abdication. She became the family matriarch and lived on until 1953. Her acquisitiveness led her to accumulate a vast collection of artefacts, often from the houses of friends.
QUOTATION
Queen Mary would never, in any circumstances, use the telephone.
- Roger Fulford, Hanover to Windsor, 1960.
Explore-Parliament.net: Advanced Category Search
Keyword Categories:
_Queen
_Royal_Family
_Woman
_Person
_Consort
_Object_Portrait
_Object_Artwork
_Object_Painting
_Artist_after_Llewellyn
_Mary_Queen