Queen Elizabeth, the Queen Mother (1900-present)
© 2007 Armchair Travel Co. Ltd. - This page may be used for non-commercial purposes ONLY!


[ Play Narrated and Animated Movie ! ]
[ Virtual Tour ] [ Main Topics Index ]





The Queen Mother, the former Lady Elizabeth Bowes-Lyon, who was born in 1900 is the longest-living of all queen consorts. Thrust into prominence after the abdication in 1937, Elizabeth rose magnificently to the occasion, and increased the popularity of the monarchy enormously by remaining in London and visiting the East End during the Blitz.
Like its pair in this room, King George VI, this is a copy of the 1945 State portrait of the Queen Mother by Sir Gerald Kelly.
I'm glad we've been bombed. It makes me feel I can look the East End in the face.
- The Queen Mother.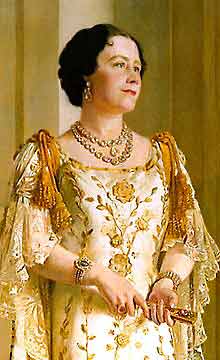 Additional Information on
Queen Elizabeth, the Queen Mother (1900-present)

Elizabeth Bowes-Lyon was the youngest daughter of the 14th Earl of Strathmore and Glamis, and was brought up in an idyllic childhood at Macbeth's haunted Castle of Glamis. The castle was turned into a convalescent home during the first World War and when her mother collapsed from exhaustion in 1916, the young Elizabeth took her place as organiser of the huge establishment.
Through her friendship with Mary, the Princess Royal, and their joint activities with the Girl Guides, Elizabeth met Albert, Duke of York ('Bertie' - later George VI) after the war and so began her wildly successful introduction into society. Bertie, along with many others, fell completely in love with her and asked her to marry him but Elizabeth rejected her rather gauche suitor several times until his perseverance - one of his best qualities - paid off and she at last accepted him, a couple of years later.
Bertie's parents fortunately raised no obstacles since, although Elizabeth was a member of the family of one of Scotland's oldest earldoms, she was not of royal blood. This may have been because he was only second in line to the throne after his more dashing and popular brother David, the Prince of Wales. The couple were married in Westminster Abbey in 1923, and Elizabeth soon became the favourite of George V and charmed everyone who came in contact with her. The newlyweds were first given the White Lodge in Richmond Park but, finding it inconvenient, moved to Chesterfield House near Buckingham Palace, lent to them by the Princess Royal.
They managed to create not only a happy home into which their daughters, Elizabeth in 1926 and later Margaret were born, but also Elizabeth helped and encouraged her husband so that he overcame the difficulties with speech and shyness that had bedevilled him since childhood. They were completely devoted to each other and led a quiet private life, so it was a rude shock, when after the death of his father and the crisis of the abdication, the crown was thrust at Bertie in 1936.
Elizabeth was absolutely opposed to the idea of her brother-in-law marrying Wallis Simpson, the American divorcée, because she disliked Mrs Simpson and felt that Wallis brought out the worst in him. Elizabeth never saw reason to revise her opinion. The crisis could not have occurred at a worse time for the Yorks as she was ill with influenza and unable to be at her husband's side. Nevertheless, with the help of Lord Louis Mountbatten, her husband (now George VI) weathered the storm and with her extraordinary assistance became one of the most popular and respected English Kings.
Their popularity was enormously enhanced by the brave and remarkable stand they took during the war, which broke out three years later. The family remained at Buckingham Palace during the Blitz and after, even though it was an obvious target and indeed took direct hits from several bombs, nearly killing the royal couple. Many times they toured the East End which had been badly damaged during Hitler's terror bombing campaign in 1940, and the other devastated cities, helping to raise morale wherever they went. The King also toured the fronts as they opened up in succeeding years, with great effect.
After the war they were delighted to give their daughter, Elizabeth in marriage to Prince Philip Mountbatten in 1947, but sadly the strains of the war years began to take their toll and George VI became ill from a number of causes in the early 1950's and died in 1952. They were in many ways the ideal couple with many similar interests and it was said of her, 'That was the measure of her greatness as a woman, she drew him out and made him so strong that she could lean on him'. Unlike her predecessor Queen Victoria, Elizabeth did not retreat into deep mourning and to resolve the unprecedented question of her title (Queen Mary being still alive), she became, 'Queen Elizabeth, the Queen Mother', known and loved universally as 'The Queen Mum'. A worthy successor to 'Good Queen Mold', England's only previous Scottish Queen.

QUOTATIONS
The children will not leave unless I do. I shall not leave unless their father does, and the King will not leave the country in any circumstances whatsoever.
- Queen Elizabeth's comment on leaving war-time London, 1941.
That was her measure of greatness as a woman. She drew him out and made him a man so strong that she could lean on him.
- A close friend, on Elizabeth's character.
Explore-Parliament.net: Advanced Category Search
Keyword Categories:
_Queen
_Royal_Family
_Woman
_Person
_Consort
_Object_Painting
_Object_Artwork
_Object_Portrait
_Artist_after_Kelly
_Elizabeth