George II (b.1683 r.1727-1760)
© 2007 Armchair Travel Co. Ltd. - This page may be used for non-commercial purposes ONLY!


[ Play Narrated and Animated Movie ! ]
[ Virtual Tour ] [ Main Topics Index ]





George II was born in 1683 and ascended the throne in 1727. His reign was shadowed by warfare - with Spain, then the War of the Austrian Succession and lastly the Seven Years War in which the defeat of the French led to the British aquisition of Canada. He died in 1760.
He had no favourites and indeed no friends, having none of that expansion of heart, none of those amiable connecting talents which are necessary for both. This, together with the sterility of his conversation, made him prefer the company of women... but chiefly of such as require little attention and less pay.
- Lord Chesterfield, quoted in A F Scott, Everyone a Witness.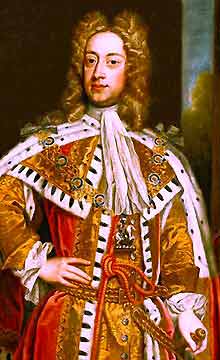 Additional Information on
George II (b.1683 r.1727-1760)

George II was the son of George I, and so became the second Hanoverian king of Britain. He was a tall man, with brilliant blue eyes and a large nose. He was seen as vain, arrogant, ungracious, obstinate and selfish by his contemporaries who were highly critical of his character. He had few intellectual interests apart from a wavering fondness for history and military memorabilia. His only distinctive credits were his military capabilities and his interest in music - in fact George patronised Handel whom he much admired.
For the first twelve years of his reign George relied heavily on his prime minister Robert Walpole, who kept Britain out of all major foreign disruptions. But from 1739 onwards, Britain became entangled in almost continuous conflict in Europe. This began firstly with Spain over a quarrel, then with France in the War of the Austrian Succession, then again with France during the Seven Years War. During these wars George proved his status as a courageous leader. At the Battle of Dettingen in 1743 George led his troops into action - this was the last time a British king led an army into battle.
As a result of such warfare, this period saw a substantial extension to the British Empire in India, North America and Canada. Britain was steadily becoming one of the world's major powers.

QUOTATIONS
He looked upon all men and women as creatures he might kick or kiss for his diversion.
- Lady Mary Wortley Montagu.
He was thought to reward his mistresses by giving them sweepstakes tickets.
- T.H. White, The Age of Scandal, 1950.
George the First was always reckoned
Vile, but viler George the Second;
And what mortal ever heard
Any good of George the Third?
When from earth the Fourth descended,
God be praised, the Georges ended.
- Walter Savage Landor, 1775-1864.
Explore-Parliament.net: Advanced Category Search
Keyword Categories:
_King
_Royal_Family
_Man
_Person
_Object_Portrait
_Object_Artwork
_Object_Painting
_Artist_after_Kneller
_George_II_