Prince Philip, the Duke of Edinburgh (1921-present)
© 2007 Armchair Travel Co. Ltd. - This page may be used for non-commercial purposes ONLY!


[ Play Narrated and Animated Movie ! ]
[ Virtual Tour ] [ Main Topics Index ]





Prince Philip, the Duke of Edinburgh, is the son of Prince Andrew of Greece. King George VI conferred on him the title 'Duke of Edinburgh' on the eve of his marriage to Elizabeth, the present Queen of England. Prince Philip is best known for his involvement in the British forces - notably the Royal Navy.
I am referred to in that splendid language, pidgin English, as Feller-belong-Queen.
- Prince Philip.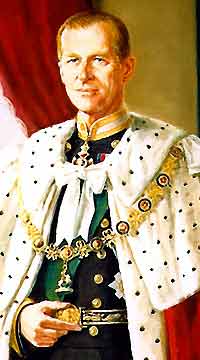 Additional Information on
Prince Philip, the Duke of Edinburgh (1921-present)

Born in Corfu in 1921, Prince Philip is the son of Prince Andrew of Greece and Denmark, and daughter of Princess Alice, the elder daughter of Louis Alexander Mountbatten and Princess Victoria, a granddaughter of Queen Victoria. Philip was brought up mainly in Great Britain and notably attended Gordonstoun School in Scotland, to which, incidentally, his sons were also sent. He then went to Dartmouth Naval College in Devon, passing out as an officer in early 1940. Philip then served with the Royal Navy, with distinction, throughout the hostilities in both the Mediterranean and Pacific theatres of war.
In early 1947, with his marriage to the royal Princess Elizabeth in prospect, Philip assumed British nationality, gave up his claim to the Greek and Danish thrones and took on his mother's maiden name of Mountbatten (which had been changed from Battenburg at the outset of World War I). Philip was married to Elizabeth on November 20th 1947 at Westminster Abbey and, amongst other titles, was made Duke of Edinburgh. He remained on active service with the Royal Navy, commanding the frigate 'Magpie', until Elizabeth became Queen after her father, King George VI's, death in 1952.
Philip has shared the official life of the Royal Family ever since, joining the Queen on numerous overseas tours and performing official engagements punctiliously. His interests include polo and driving four-in-hand and other carriages at which he has shown notable prowess. He is believed to have influenced his sons, two of whom also joined the Royal Navy and the third was at one time due to join the Royal Marines. Queen Elizabeth made him Prince of the United Kingdom in 1957 and three years later his surname was combined with hers as Mountbatten-Windsor.

QUOTATIONS
He seemed to me to be completely English in manner and outlook - intelligent and broadminded, fair and good-looking. He cannot, in fact, even speak Greek.
- Tom Driberg, Reynolds News, 1946.
A man attractive to women, envied by men, a bit vicious on the polo field, autocratic, a bit of a ham actor - and in the red. He lives a good life but he has to pay for it. He has never been rich.
- The Times, Profile of The Duke of Edinburgh, 1982.
No one has a kinder heart, or takes more trouble to conceal it.
- Michael Parker, Prince Philip, 1971.
Explore-Parliament.net: Advanced Category Search
Keyword Categories:
_Consort
_Royal_Family
_Person
_Man
_Object_Portrait
_Object_Artwork
_Object_Painting
_Artist_Davidson_Houston
_Philip