Erasmus and Thomas More visit the children of Henry VII at Greenwich
© 2007 Armchair Travel Co. Ltd. - This page may be used for non-commercial purposes ONLY!


[ Play Narrated and Animated Movie ! ]
[ Virtual Tour ] [ Main Topics Index ]





The painting shows the interior of the medieval palace of Greenwich: a man in black kneels before three small children in gorgeous apparel. Behind him and to the right, a tall man stands in profile, leaning on a stick. The story is a charming one, and it is true.
Erasmus of Rotterdam was the most famous scholar of his day. In 1499 he was visiting England. He was in Greenwich one day with his young friend Thomas More, who made him an intriguing invitation.
I prithee, bear me company to a certain great house nigh to here. There thou shalt find friends, who have a great desire to see thee.
- More.
The house turned out to be the royal palace, and the 'friends' were the royal children. One of them was the future Henry VIII, who was eight years of age at the time. The infant prince promptly demanded that the great scholar should write them a poem - which he did.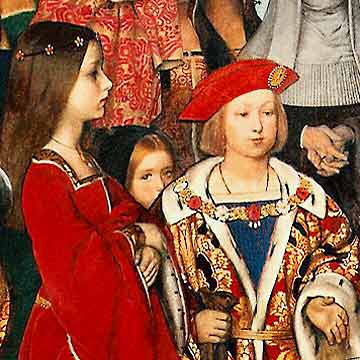 Additional Information on
Erasmus and Thomas More visit the children of Henry VII at Greenwich

The original plan for the East Corridor, as set out by the Fine Arts Commissioners in 1847, was quite different from what we have today. It was to have contained such subjects as A Druidical Sacrifice and The Phoenicians in Cornwall on the one hand, with The Emancipation of Negro Slaves on the other. This ill-assorted scheme was abandoned early on, but it was not until 1907 that the new Liberal Government set up a committee for completing the decoration of the Palace of Westminster.
The new scheme for the East Corridor was to be historical events of the Tudor period. It is one of the most successful schemes in the Palace, whose unity is achieved by a colour scheme which is predominantly red, gold and black, and by the stipulation that the height of main characters in the pictures should not exceed 5'6" in height.
Explore-Parliament.net: Advanced Category Search
Keyword Categories:
_Setting_London
_Setting_England
_Object_Painting
_Object_Artwork
_Event_Historical
_Man
_Person
_Artist_Cowper
_Topic_Henry_VIII
_More