Choosing of the Lancastrian and Yorkist Roses
© 2007 Armchair Travel Co. Ltd. - This page may be used for non-commercial purposes ONLY!


[ Play Narrated and Animated Movie ! ]
[ Virtual Tour ] [ Main Topics Index ]





Let him that is a true-born gentleman,
And stands upon the honour of his birth,
If he suppose that I have pleaded truth,
From off this briar pluck a white rose with me.
- Richard Plantagenet
Let him that is no coward nor no flatterer,
But dare maintain the party of the truth,
Pluck a red rose from off this thorn with me.
- Somerset
Shakespeare is narrating a scene which is traditionally supposed to have happened in the mid 1400's, and to have been one of the causes of the Wars of the Roses. But it seems likely the tale is no more than a legend.
Until 1453, when a son was born to Henry VI, the reigning king of the house of Lancaster, the king's cousin, Richard Plantagenet, Duke of York was regarded as heir-presumptive. But the House of Lancaster could claim a better title for John Beaufort, Duke of Somerset. In the legend, while several nobles were walking in the Old Temple Garden in London, a quarrel broke out between these two, and those present took sides by plucking red roses for Lancaster, or white roses for York. Shakespeare gives the Duke of York the prophetic final words:
I dare say
This quarrel will drink blood another day.
- Richard Plantagenet
The painter, Henry A Payne, was chosen by the 7th Earl Beauchamp, the donor, on the strength of the artist's work on the earl's house, Madresfield Court.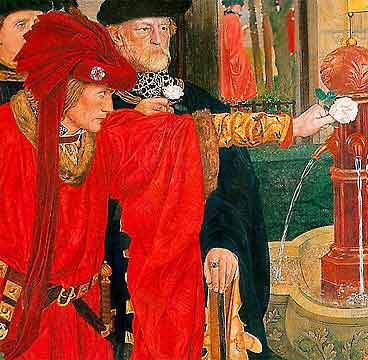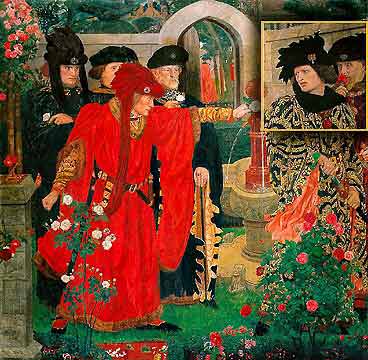 Additional Information on
Choosing of the Lancastrian and Yorkist Roses

The original plan for the East Corridor, as set out by the Fine Arts Commissioners in 1847, was quite different from what we have today. It was to have contained such subjects as A Druidical Sacrifice and The Phoenicians in Cornwall on the one hand, with The Emancipation of Negro Slaves on the other. This ill-assorted scheme was abandoned early on, but it was not until 1907 that the new Liberal Government set up a committee for completing the decoration of the Palace of Westminster.
The new scheme for the East Corridor was to be historical events of the Tudor period. It is one of the most successful schemes in the Palace, whose unity is achieved by a colour scheme which is predominantly red, gold and black, and by the stipulation that the height of main characters in the pictures should not exceed 5'6" in height.
Explore-Parliament.net: Advanced Category Search
Keyword Categories:
_Event_Literary
_Object_Painting
_Object_Artwork
_Royal_Family
_Person
_Man
_Artist_Payne
_Setting_England
_Lancastrian