Entry of Queen Mary I and Princess Elizabeth into London after the death of Edward VI
© 2007 Armchair Travel Co. Ltd. - This page may be used for non-commercial purposes ONLY!


[ Play Narrated and Animated Movie ! ]
[ Virtual Tour ] [ Main Topics Index ]





In the centre of the picture, Queen Mary Tudor, her face familiar from contemporary portraits, but here shown in unusually gracious and smiling mood, receives the homage of the bishop of London, and the Lord Mayor.
The picture commemorates events in 1553. The Duke of Northumberland had tried and failed to seize the throne for Lady Jane Grey, his daughter-in-law, excluding Mary and Elizabeth, the daughters of Henry VIII. Following the collapse of this attempt, catholic Mary entered London amid the rejoicing of the citizens, accompanied by her sister Elizabeth.
Elizabeth was in a very difficult position, which required all her astuteness. She well knew that Mary's advisers were very hostile to her, both on grounds of religion, and because of her potential as a Protestant rival for the throne. In the event, Elizabeth's popularity with the people provided the necessary protection, and she lived to succeed to the throne after Mary's death five years later.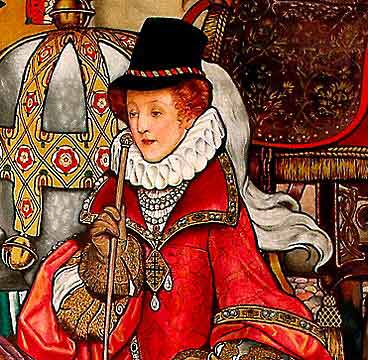 Additional Information on
Entry of Queen Mary I and Princess Elizabeth into London after the death of Edward VI

The original plan for the East Corridor, as set out by the Fine Arts Commissioners in 1847, was quite different from what we have today. It was to have contained such subjects as A Druidical Sacrifice and The Phoenicians in Cornwall on the one hand, with The Emancipation of Negro Slaves on the other. This ill-assorted scheme was abandoned early on, but it was not until 1907 that the new Liberal Government set up a committee for completing the decoration of the Palace of Westminster.
The new scheme for the East Corridor was to be historical events of the Tudor period. It is one of the most successful schemes in the Palace, whose unity is achieved by a colour scheme which is predominantly red, gold and black, and by the stipulation that the height of main characters in the pictures should not exceed 5'6" in height.
Explore-Parliament.net: Advanced Category Search
Keyword Categories:
_Event_Historical
_Object_Painting
_Object_Artwork
_Queen
_Royal_Family
_Woman
_Person
_Artist_Shaw
_Setting_London
_Setting_England
_Topic_Elizabeth_I_
_Mary_I_