Latimer preaches before Edward VI at St Paul's Cross
© 2007 Armchair Travel Co. Ltd. - This page may be used for non-commercial purposes ONLY!


[ Play Narrated and Animated Movie ! ]
[ Virtual Tour ] [ Main Topics Index ]





St Paul's Cross was an open air pulpit outside St Paul's Cathedral in the City of London: not the present Cathedral, which was built by Sir Christopher Wren after the Fire of London in 1666, but Old St Paul's, which had stood on the same site since the 12th century. During the sixteenth century, when religion and politics frequently collided, Paul's Cross was an important place for the dissemination of ideas, both religious and political. The painting shows the young king Edward VI, seated on a specially-constructed dais and throne, and surrounded by his court, including a page in the foreground, who carries the king's prayerbook on a velvet cushion.
The young king is listening very intently to Bishop Latimer, who was, like the king, a leading representative of the Reform party in the church, sometimes called the Conscience of the English Reformation. He fearlessly denounced, not only the Catholic party, but also the great Protestant nobles of Edward's own court who had profited by the change of religion and the oppressions suffered by the poor.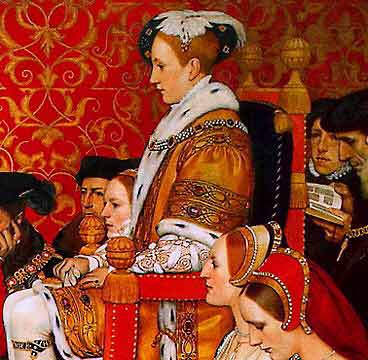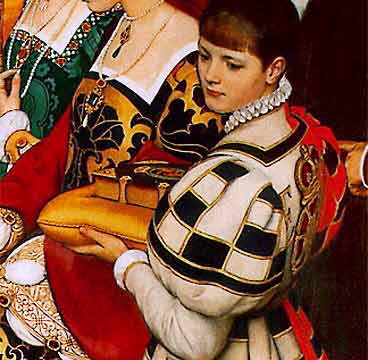 Additional Information on
Latimer preaches before Edward VI at St Paul's Cross

The original plan for the East Corridor, as set out by the Fine Arts Commissioners in 1847, was quite different from what we have today. It was to have contained such subjects as A Druidical Sacrifice and The Phoenicians in Cornwall on the one hand, with The Emancipation of Negro Slaves on the other. This ill-assorted scheme was abandoned early on, but it was not until 1907 that the new Liberal Government set up a committee for completing the decoration of the Palace of Westminster.
The new scheme for the East Corridor was to be historical events of the Tudor period. It is one of the most successful schemes in the Palace, whose unity is achieved by a colour scheme which is predominantly red, gold and black, and by the stipulation that the height of main characters in the pictures should not exceed 5'6" in height.
Explore-Parliament.net: Advanced Category Search
Keyword Categories:
_Event_Historical
_King
_Royal_Family
_Man
_Person
_Object_Painting
_Object_Artwork
_Setting_London
_Setting_England
_Artist_Board
_Edward_VI_