Charles II assisted in his escape by Jane Lane after the Battle of Worcester
© 2007 Armchair Travel Co. Ltd. - This page may be used for non-commercial purposes ONLY!


[ Play Narrated and Animated Movie ! ]
[ Virtual Tour ] [ Main Topics Index ]





After the Royalist defeat at Worcester, Charles II escaped from the Parliamentarians, who were searching the countryside for him, by a series of romantic adventures lasting six weeks, including that of hiding in the Royal Oak at Boscobel. This painting shows him escaping from Bentley Hall (incorrectly attributed as Moseley Hall), disguised as the servant of Colonel Lane. Behind him, riding pillion, is the colonel's sister, Jane. In the background, Parliamentary soldiers ride by, in fruitless search. These adventures, in which Charles showed great presence of mind and a sense of humour, became a favourite part of the mythology of the Royalists during the years of the Commonwealth.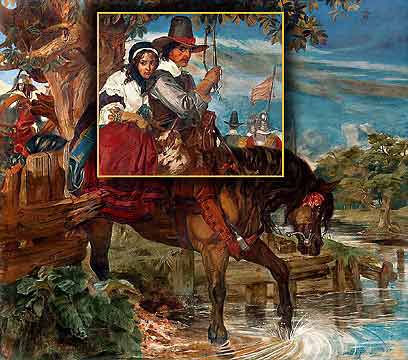 Explore-Parliament.net: Advanced Category Search
Keyword Categories:
_Event_Historical
_Object_Painting
_Object_Artwork
_Setting_England
_King
_Royal_Family
_Man
_Person
_Artist_Ward
_Charles_II_