The acquittal of the Seven Bishops
© 2007 Armchair Travel Co. Ltd. - This page may be used for non-commercial purposes ONLY!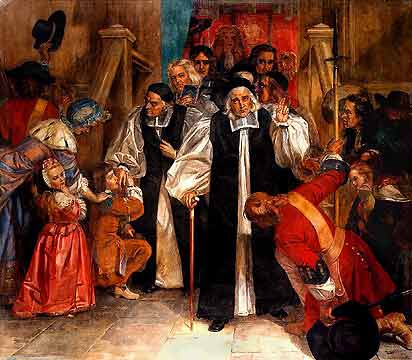 [ Play Narrated and Animated Movie ! ]
[ Virtual Tour ] [ Main Topics Index ]





The culminating act whereby James II alienated the loyalty of the Church of England and the Tory party was his prosecution of the Seven Bishops, including the Archbishop of Canterbury. The charge was libel, in respect of a petition which they had presented to the king against the Declaration of Indulgence which he had required the clergy to read from their pulpits.
Their trial was held in Westminster Hall on 29th June 1688, amid scenes of unparalleled national excitement. It resulted the next morning in the acquittal of all the accused. That same day, the leaders of the Whig and Tory parties invited William of Orange to invade the country.
Explore-Parliament.net: Advanced Category Search
Keyword Categories:
_Event_Historical
_Object_Painting
_Object_Artwork
_Artist_Ward
_Setting_Westminster
_Setting_England
_Bishops