The Execution of the Marquis of Montrose
© 2007 Armchair Travel Co. Ltd. - This page may be used for non-commercial purposes ONLY!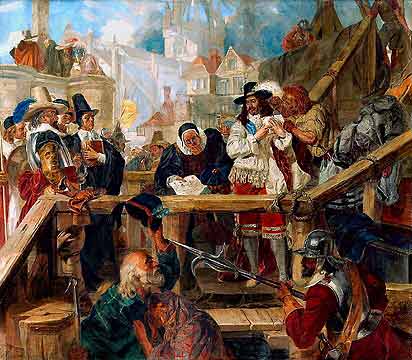 [ Play Narrated and Animated Movie ! ]
[ Virtual Tour ] [ Main Topics Index ]





James Graham, 5th Earl and 1st Marquis of Montrose led daring campaigns early in the Civil War, when, on behalf of Charles I, he overran Scotland with an army of Highlanders. This won him bitter enemies as well as devoted adherents. His later invasion of Scotland in 1650 was a complete failure, and this painting shows his execution in the High Street, Edinburgh on 21 May of that year. To add insult, the Scottish Parliament decreed that when hanged he should have placed around his neck the account of his earlier Highland campaigns which had been published by his chaplain, Dr Wishart.
Montrose smilingly declared that even the king could not have sent him anything he would rather have around his neck, even the ribbon of the Order of the Garter. The background shows 17th-century Edinburgh. In the foreground, an old man with a Highland bonnet protests at the insult to Montrose. A young girl, perhaps his granddaughter, tries to quieten him, while a soldier threatens him with a pike.
Explore-Parliament.net: Advanced Category Search
Keyword Categories:
_Setting_Scotland
_Event_Historical
_Object_Painting
_Object_Artwork
_Peer
_Man
_Person
_Topic_Civil_War
_Artist_Ward
_Montrose