The Red Cross Knight overcomes the dragon, from The Faerie Queene
© 2007 Armchair Travel Co. Ltd. - This page may be used for non-commercial purposes ONLY!


[ Play Narrated and Animated Movie ! ]
[ Virtual Tour ] [ Main Topics Index ]





The scene of this fresco, 'The Red Cross Knight' painted by G F Watts, is taken from The Faerie Queen by Edmund Spenser (1552 or 1553 to 1599). This long allegorical poem's first book deals throughout with the Red Knight - a figure which we learn towards the end of the book is actually St George, the patron saint of England.
His true identity having been revealed, the knight returns with Una, his beloved, to her country, and to the brazen castle (on the hill in the background) in which her parents are confined by a dragon. The creature is incensed by the Red Cross Knight's glittering armour, and attacks him in a battle which lasts three days. The scene of the picture shows the third day, when the knight has slain the dragon. Una stands beside him, with her newly-rescued parents in the background.
So down he fell, and forth his life did breathe,
That vanished into smoke and cloudes swift;
So down he fell, as an huge rocky clift,
Whose false foundation waves had washed away,
With dreadful poise is from the mainland rift,
And, rolling down, great Neptune doth dismay;
So down he fell and like an heapèd mountain lay.
- Spenser
George Frederick Watts (1817-1904) rose from poor origins to become one of the most distinguished, prolific and respected artists of the Victorian period. All his great works are in oils, and it could be said that he expected too much of the medium of fresco: many of the subtlest effects which he planned for this picture, and which can be seen on surviving studies, were quick to decay and fade.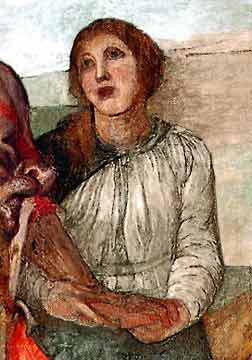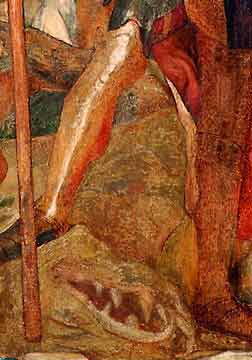 Explore-Parliament.net: Advanced Category Search
Keyword Categories:
_Event_Literary
_Object_Painting
_Object_Artwork
_Man
_Person
_Artist_Watts
_Knight