King Lear disinherits Cordelia, from King Lear
© 2007 Armchair Travel Co. Ltd. - This page may be used for non-commercial purposes ONLY!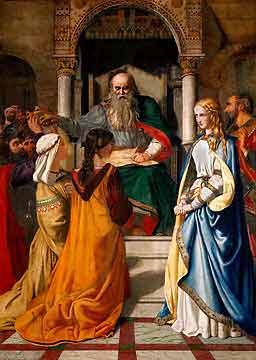 [ Play Narrated and Animated Movie ! ]
[ Virtual Tour ] [ Main Topics Index ]





The first act of Shakespeare's King Lear, on which this painting is based, tells how the king, deciding to apportion the inheritance of his three daughters before his death, asks them the fateful question: 'Which of you shall we say doth love us most?'.
The two elder sisters Regan and Goneril find easy words with which to reassure the aged king. But Cordelia, the youngest, when she is invited to speak words which may win her a bigger share than theirs, can only answer 'Nothing, my lord.'
Nothing will come of nothing. Speak again.
- Lear
Unhappy that I am, I cannot heave
My heart into my mouth: I love your majesty
According to my bond: nor more, nor less.
- Cordelia
And so Lear calls the King of France and the Duke of Burgundy, husbands of his elder daughters, to take Cordelia's share between them: in symbol of which he gives her coronet to them.
Which to confirm, this crownet part between you.
- Lear
And despite the protestations of the Earl of Kent (right) Cordelia is cast aside. The tragedy is set in motion.
John Rogers Herbert (1810-1890) was chiefly known for his religious pictures. It is recorded that for his Lear fresco he several times cut out the head of the king and repainted it, in order truly to capture the complex character of the man. When, along with the rest of the paintings here, this one began to decay, Herbert repainted it on canvas, and offered it to the Palace of Westminster. In the event the offer was not accepted, and this version of the picture is now in Nottingham Castle Museum.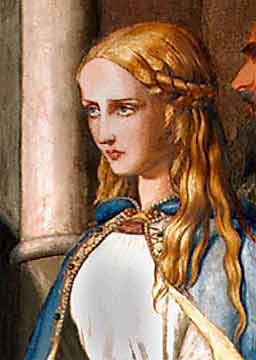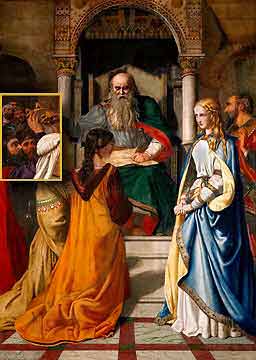 Explore-Parliament.net: Advanced Category Search
Keyword Categories:
_King
_Royal_Family
_Man
_Person
_Woman
_Event_Literary
_Object_Painting
_Object_Artwork
_Artist_Herbert
_Lear