Satan touched by Ithuriel's spear while whispering evil thoughts into the ear of Eve, from Paradise Lost
© 2007 Armchair Travel Co. Ltd. - This page may be used for non-commercial purposes ONLY!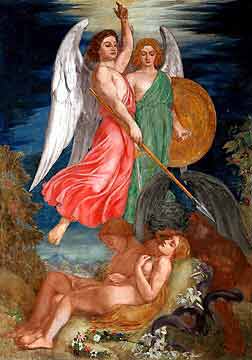 [ Play Narrated and Animated Movie ! ]
[ Virtual Tour ] [ Main Topics Index ]





In Book IV of Milton's Biblical epic Paradise Lost, on which this painting is based, the angels Ithuriel and Zephon are charged by Gabriel to watch over the innocent slumbers of Adam and Eve in Paradise. But the hordes of Satan were prowling around, and when the two angels came to the sleeping Eve they found Satan whispering at her ear.
Him there they found
Squat like a toad, close at the ear of Eve,
Assaying by his devilish art to reach
The organs of her fancy, and with them to forge
Illusions as he list, phantasms and dreams.
Him thus intent Ithuriel with his spear
Touched lightly; for no falsehood can endure
Touch of celestial temper, but returns
Of force to its own likeness. Up he starts,
Discovered and surprised.
- Milton
The artist, John Calcott Horsley (1817-1903) studied at the Royal Academy in London, to which he was elected an academician in 1856. He was noted for chiefly domestic scenes (among other things, he was opposed to painting from the nude model).
The original commission here was for a painting based on Milton's two poems 'L'Allegro' and 'Il Penseroso', for which drawings were prepared. In the event Lord Macaulay intervened, arguing that for the walls of the New Palace of Westminster they should not look to Milton's minor poetry for subjects. The subject was changed to 'Paradise Lost'.
Explore-Parliament.net: Advanced Category Search
Keyword Categories:
_Event_Literary
_Object_Painting
_Object_Artwork
_Artist_Horsely
_Satan