St Cecilia, from A Song for St Cecilia's Day
© 2007 Armchair Travel Co. Ltd. - This page may be used for non-commercial purposes ONLY!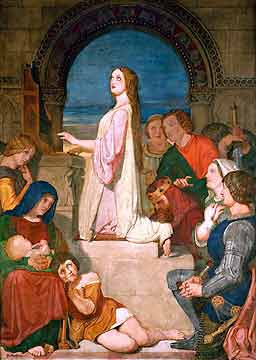 [ Play Narrated and Animated Movie ! ]
[ Virtual Tour ] [ Main Topics Index ]





The subject of this painting is taken from the end of John Dryden's 'Ode for St Cecilia's Day', written for the celebration of that Saint's day, on November 22nd, 1687.
The painter shows the saint kneeling at the organ, while around her crowd listeners young and old, high and low, transported by the power of music. The saint's eyes, meanwhile, are fixed on heaven, from which her inspiration comes. The poem was memorably set to music by several composers, including Handel.
But oh! What Art can teach
What human voice can reach
The sacred Organ's Praise?
Notes Inspiring holy Love,
Notes that wing their heavenly Ways
To mend the Choires above.
Orpheus could lead the savage race,
And trees unrooted left their Place,
Sequacious of the Lyre;
But bright Cecilia raised the Wonder higher:
When to her Organ vocal breath was given,
And Angel heard, and straight appeared,
Mistaking Earth for Heaven.
- John Dryden.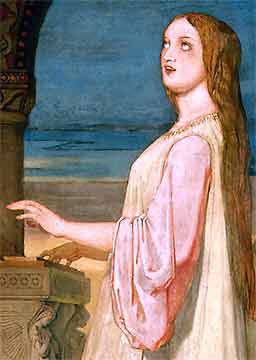 Explore-Parliament.net: Advanced Category Search
Keyword Categories:
_Saint
_Woman
_Person
_Object_Painting
_Object_Artwork
_Artist_Tenniel
_Event_Literary
_Cecilia