Personification of the Thames and of English rivers, from Windsor Forest
© 2007 Armchair Travel Co. Ltd. - This page may be used for non-commercial purposes ONLY!


[ Play Narrated and Animated Movie ! ]
[ Virtual Tour ] [ Main Topics Index ]





Alexander Pope (1688-1744) wrote the poem Windsor Forest , on which this painting is based, in the form of a classical pastoral, modelled on Virgil and Ovid. It enjoyed great popularity with supporters of the Tory party, because he took the opportunity to celebrate the Treaty of Utrecht (1713), which ended the War of the Spanish Succession.
At length great Anna said - Let discord cease!
She said: the World obey'd, and all was Peace!
In that blest Moment, from his Oozy Bed
Old Father Thames advanc'd his rev'rend Head.
[His Tresses dropt with Dews, and o'er the Stream
His shining Horns diffus'd a golden Gleam:]
Grav'd on his Urn appeared the Moon, that guides
His swelling Waters, and alternate Tydes;
The figur'd Streams in Waves of Silver roll'd,
And on their Banks Augusta rose in Gold.
Around his Throne the Sea-Born Brothers stood,
Who swell with Tributary Urns his Flood.
High in the midst, upon his Urn reclin'd,
(His Sea-green Mantle waving with the Wind)
The God appear'd; his turn'd his azure Eyes
Where Windsor Domes and pompous Turrets rise,
Then bow'd and spake...
Hail, sacred Peace! Hail long-expected Days,
That Thames's glory to the Stars shall raise!
- Pope
The painter depicts on Father Thames's urn not only the sickle moon, but St Paul's Cathedral, and the Victoria Tower of the New Palace of Westminster.
Edward Armitage (1817-1896) studied in Paris and had early successes in the competitions for the decoration of the New Palace of Westminster. He exhibited chiefly Biblical subjects at the Royal Academy, of which he became an academician in 1872, and professor and lecturer in painting in 1875.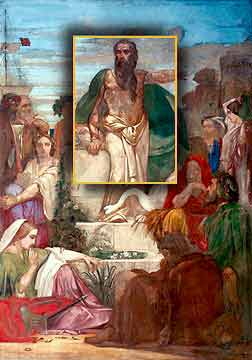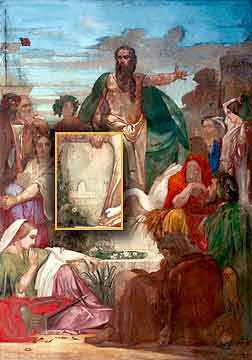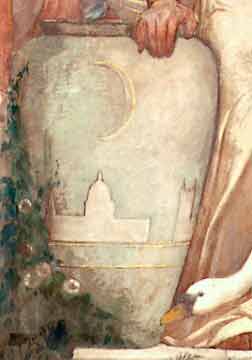 Explore-Parliament.net: Advanced Category Search
Keyword Categories:
_Event_Literary
_Object_Painting
_Object_Artwork
_Artist_Armitage
_Thames