Death of Marmion, from Marmion
© 2007 Armchair Travel Co. Ltd. - This page may be used for non-commercial purposes ONLY!


[ Play Narrated and Animated Movie ! ]
[ Virtual Tour ] [ Main Topics Index ]





The long romantic poem 'The Death of Marmion' by Sir Walter Scott, published in 1808, relates the story of Lord Marmion, a fictitious character living in the time of Henry VIII, and killed at the Battle of Flodden. His death comes in Canto VI, where the hero cries:

Leave Marmion here alone to die!
They parted, and alone he lay.
Clare drew her from the sight away
Till pain wrung forth a lowly moan,
And half he murmured: 'Is there none
Of all my halls have nursed,
Page, squire or groom, one cup to bring
Of blessed water from the spring
To slake my dying thirst?'
- Marmion
And then, in some of Scott's most celebrated lines, much beloved of Victorian readers:
O! woman! In our hours of ease
Uncertain, coy, and hard to please
And variable as the shade
By the light quivering aspen made;
A ministering angel thou!
Scarce were the piteous accents said
When, with the baron's casque the maid
To the nigh streamlet ran.
- Marmion
Clare who thus nurses the afflicted without hesitation, even though he is her enemy, became something of a pattern of Victorian womanhood.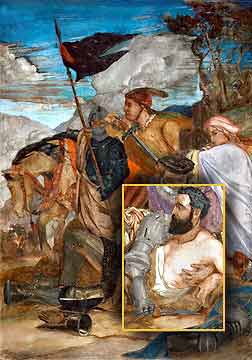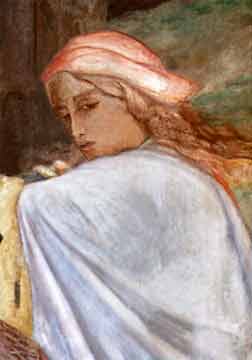 Explore-Parliament.net: Advanced Category Search
Keyword Categories:
_Event_Literary
_Object_Painting
_Object_Artwork
_Man
_Person
_Artist_Armitage
_Marmion