Death of Lara, from Lara
© 2007 Armchair Travel Co. Ltd. - This page may be used for non-commercial purposes ONLY!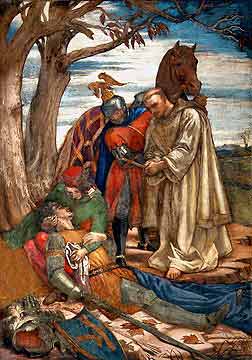 [ Play Narrated and Animated Movie ! ]
[ Virtual Tour ] [ Main Topics Index ]





Lord Byron (1788-1824) published the 'Death of Lara', on which this painting is based, in 1814 before his self-exile from England, and while he was still a prominent figure in London society. It is a wildly melodramatic tale, about a nobleman whose secret disreputable past comes back to haunt him, and who dies in the arms of his faithful page, Kaled - who turns out to be a woman in disguise. The theme of a nobleman with a disastrous wild side had obvious resonances for Byron, as indeed does the pretty page who is really a girl. The scene is set in Spain, though Byron himself says:
The name only is Spanish: the country is not Spain but the Moon.
Twas Lara bleeding fast his life away.
His follower once, and now his only guide,
Kneels Kaled, watchful o'er his swelling side,
And with his scarf would staunch the tides that rush,
With each convulsion, in a blacker gush;
And then, as his faint breathing waxes low,
In feebler, not less fateful, tricklings flow:
Yet sense seemed left, though better were its loss;
For when one near displayed the absolving cross
And proffered to his touch the holy bead
Of which his parting soul might own the need,
He looked upon it with an eye profane.
- Byron.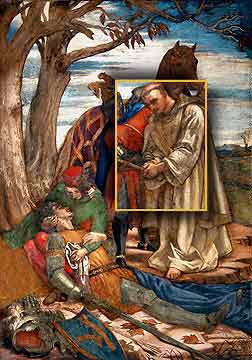 Explore-Parliament.net: Advanced Category Search
Keyword Categories:
_Object_Painting
_Object_Artwork
_Event_Literary
_Artist_Cope
_Man
_Person
_Lara