Richard I leaving England for The Crusades
© 2007 Armchair Travel Co. Ltd. - This page may be used for non-commercial purposes ONLY!


[ Play Narrated and Animated Movie ! ]
[ Virtual Tour ] [ Main Topics Index ]





The painter Glyn Philpot shows Richard the Lion Heart at the moment when he is embarking to join the Crusade in the Holy Land. He had succeeded to the throne of England only months before, and had sold crown domains and rights to finance this venture. His successes in arms there were great, culminating in the defeat of Saladin before the walls of Jaffa in 1192.
The painter imagines him against the white cliffs of south-east England, attended by the prayers of church leaders, and with a brilliant array of banners - all carefully researched by Philpot in correspondence with the writer Sir Henry Newbolt. On the right, the king resolutely climbs the companionway to the ship, behind which the prows of other ships are massed.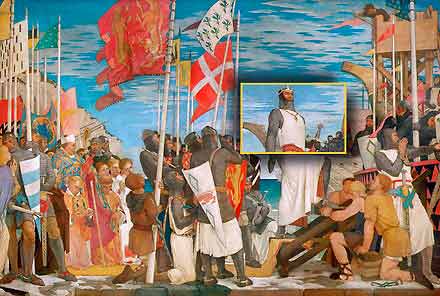 Additional Information on
Richard I leaving England for The Crusades

This is one of eight monumental canvases commissioned in 1927 to fill the vacant spaces on the walls of St Stephen's Hall. The idea of this scheme was conceived by a committee including Lord Peel, Lord Crawford (Chairman of the Fine Arts Commission) and the Speaker of the House of Commons - at that time J.H. Whitley. The subjectmatter and artists were chosen by Sir Henry Newbolt, the unifying theme being 'The Building of Britain', during the eight centuries from King Alfred to Queen Anne. The result is an unusual attempt to produce in the 1920s High Art of the sort which was understood by the Victorian artists of the 19th-century Palace, of Westminster, but which was no longer popular or perhaps well understood.
Explore-Parliament.net: Advanced Category Search
Keyword Categories:
_King
_Royal_Family
_Man
_Person
_Object_Painting
_Object_Artwork
_Setting_England
_Event_Historical
_Artist_Philpot
_Richard_I_