Charles I raising his standard at Nottingham
© 2007 Armchair Travel Co. Ltd. - This page may be used for non-commercial purposes ONLY!


[ Play Narrated and Animated Movie ! ]
[ Virtual Tour ] [ Main Topics Index ]





Nottingham, on 22 August 1642. On the left of the picture King Charles I, with his left arm upraised, his right around the shoulders of his twelve-year-old son, who would become Charles II. This was the event which signalled the start of the Civil War: the King set up his standard at Nottingham. The figure at the extreme right is Sir Edmund Verney, the Knight Marshal, who was in charge of the royal standard.
To the right, trumpeters blow a call, and the standard itself blows in the breeze, while in the foreground, soldiers and courtiers cheer. At the time the Royal Standard was set up, London and the Home Counties were already in the hands of the Parliamentary forces. It was considered a bad omen for the king's success that the Standard was blown down within a week.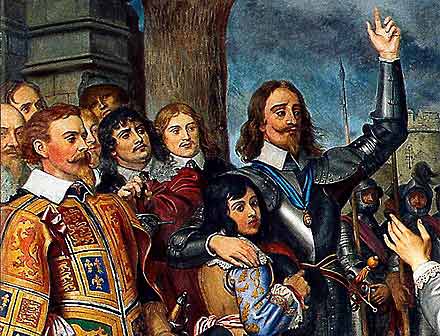 Explore-Parliament.net: Advanced Category Search
Keyword Categories:
_Setting_England
_Object_Painting
_Object_Artwork
_Event_Historical
_Topic_Charles_I_
_King
_Royal_Family
_Man
_Person
_Artist_Cope
_Topic_Civil_War
_Charles_I_