Basing House, seat of the Marquess of Winchester, defended against the Parliamentary Army
© 2007 Armchair Travel Co. Ltd. - This page may be used for non-commercial purposes ONLY!


[ Play Narrated and Animated Movie ! ]
[ Virtual Tour ] [ Main Topics Index ]





Basing House, October the 14th 1645. Following the victory of the Cromwellian New Model Army at the Battle of Naseby in June, the Royalist strongholds were one by one reduced. The most famous of these was Basing House in Hampshire - 'Loyalty House', as it was proudly called by its owner, the Catholic Marquess of Winchester.
The storming of the House was attended by scenes of ferocity which were unusual for the Civil War. The reason for this additional fury was the fact that here the contest was between Puritans and known Catholics. Cope shows a Catholic priest with biretta at the door of the house, and the dying soldier in the foreground is urgently given the Last Rites by another priest.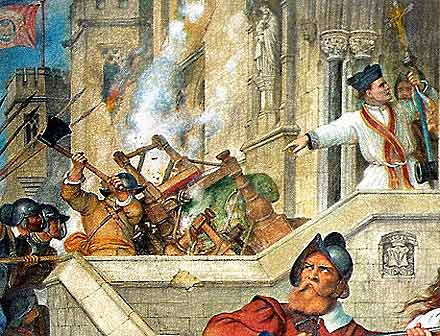 Explore-Parliament.net: Advanced Category Search
Keyword Categories:
_Setting_England
_Setting_Battle
_Event_Historical
_Object_Painting
_Object_Artwork
_Topic_Civil_War
_Artist_Cope
_Basing