The expulsion of the Fellows of Oxford Colleges for refusing to sign the Covenant to extirpate Popery
© 2007 Armchair Travel Co. Ltd. - This page may be used for non-commercial purposes ONLY!


[ Play Narrated and Animated Movie ! ]
[ Virtual Tour ] [ Main Topics Index ]





The King's defeat at Newark in 1646, after which he surrendered to the Scots, brought to an end the First Civil War. The victorious Parliament set out to deal with Oxford University, which was the intellectual stronghold of Royalism.
This painting shows the great staircase leading up to the Hall of Christ Church. On the right stern-faced Parliamentarians have arrived on a visitation. Heads of Houses, Fellows and even undergraduates were all called up to answer a question:
Do you submit to the authority of Parliament under this visitation?
- Visitor
At the foot of the stairs, a scholar raises his hand in dissent. All those who refused to submit were expelled: on the left a pair of dons sternly depart - amid the ribald amusement of the rude soldiery.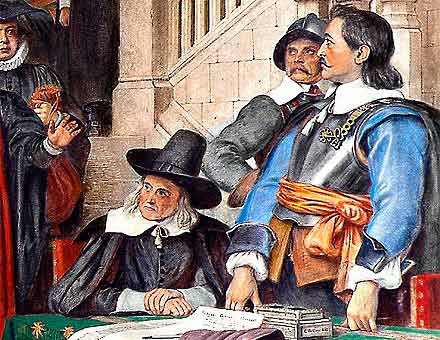 Explore-Parliament.net: Advanced Category Search
Keyword Categories:
_Topic_Civil_War
_Artist_Cope
_Event_Historical
_Object_Painting
_Object_Artwork
_Setting_England
_Oxford