The train bands leaving London to relieve the siege of Gloucester
© 2007 Armchair Travel Co. Ltd. - This page may be used for non-commercial purposes ONLY!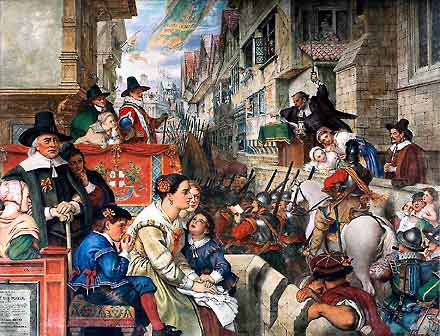 [ Play Narrated and Animated Movie ! ]
[ Virtual Tour ] [ Main Topics Index ]





The scene is Old London, as it appeared before the wholesale destruction of the Great Fire of 1660. On the left, stern merchants and anxious ladies watch while down below, at street level, an army marches past. Above them, on the far side of the road, a fierce preacher, oblivious of the hourglass which stands by his outdoor pulpit, is in the full flight of oratory, his left hand raising a sword on high, his right pointing out to the west, away from the city.
It is 1643, the second year of the Civil War. Thus far, the fortunes of war have altogether favoured the Royalists. The city of Gloucester was closely besieged and ready to fall, and when it did so, the Royalists were prepared to march upon London and end the war. The Parliamentary side had not yet formed its New Model Army, and it seemed the king's party would triumph. But at this crisis the London Train Bands - the apprentices of the capital, were excited by their preachers to form a militia and march out to fight a faraway battle at Gloucester. Having crossed England, they relieved the beleaguered city, and restored the balance of the war.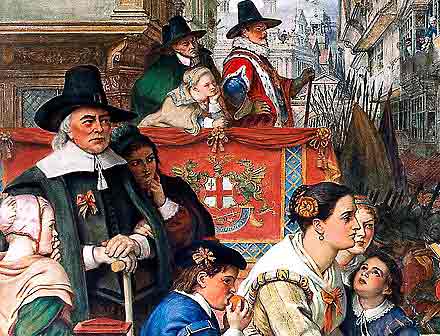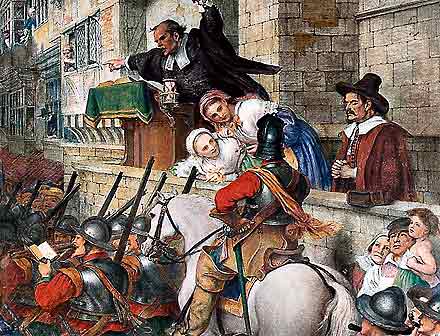 Explore-Parliament.net: Advanced Category Search
Keyword Categories:
_Setting_London
_Setting_England
_Object_Painting
_Object_Artwork
_Topic_Civil_War
_Artist_Cope
_Event_Historical
_London