Lord Russell taking leave of his wife before going down to execution for complicity in the Rye House Plot
© 2007 Armchair Travel Co. Ltd. - This page may be used for non-commercial purposes ONLY!


[ Play Narrated and Animated Movie ! ]
[ Virtual Tour ] [ Main Topics Index ]





Within a stone cell at the Tower of London, an anguished woman bids farewell to her husband. She is Rachel, Lady Russell, and he is her husband, William. The date is 1683.
During the last years of Charles II's reign, the party of the Court, which was in intense rivalry with the Whigs, gained the upper hand. A political revenge was wrought against prominent Whigs, among whom the most respected was William, Lord Russell, who had a long history of opposition to the Duke of York, Charles's brother and heir. Russell was convicted of complicity in the Rye House Plot, a scheme by certain dissatisfied Whigs to murder Charles II and the Duke of York. Though he was certainly not a party to the planned assassination, he was found guilty and executed in Lincoln's Inn Fields in 1683. Cope places a weeping sympathiser in the background, and a cleric on the right of the picture, his face full of grief.
Rachel, who was to become in a few moments the widow of Lord Russell, had won popular sympathy during her husband's trial, when she sat below him in court, taking notes as his secretary. After the Revolution of 1688, when James II was put to flight, she became something of a national heroine.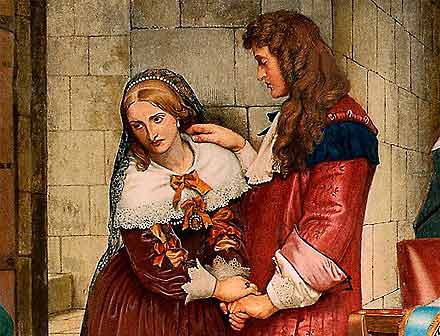 Explore-Parliament.net: Advanced Category Search
Keyword Categories:
_Setting_London
_Setting_England
_Object_Painting
_Object_Artwork
_Event_Historical
_Artist_Cope
_Peer
_Man
_Person
_Woman
_Russell