Aneurin Bevan (1897-1960)
© 2007 Armchair Travel Co. Ltd. - This page may be used for non-commercial purposes ONLY!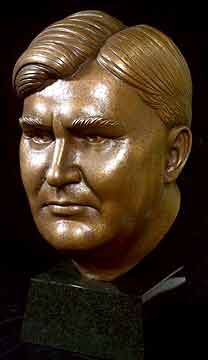 [ Play Narrated and Animated Movie ! ]
[ Virtual Tour ] [ Main Topics Index ]





He could boil blood with the evidences of misery, split sides with his jests, and make spirits soar with his visions.
- Neil Kinnock, in The Times, 1982.

Additional Information on
Aneurin Bevan (1897-1960)

Aneurin Bevan was born in Tredegar in Wales, and worked for a while in the coal mines of the area. His entry to a parliamentary career came when after having studied at the Central Labour College in London, he was elected to the House of Commons in 1929 as the member for Ebbw Vale. In 1944 he was elected to the National Executive (the executive committee of the Labour Party), and the following year was made Minister for Health and Housing in Clement Attlee's administration. In this position he was instrumental in the establishment of the National Health Service, and fought for a major programme of house-building following the destruction in the war. In 1951 Bevan was made Minister of Labour and National Service, however he soon resigned after a major disagreement with his fellow ministers over the government's domestic policy.
Bevan is remembered as a powerful and influential parliamentary orator and leader of the Labour Party. His speeches in the House were said to have been legendary. However, as a result of his somewhat outspoken views he was expelled from the party in 1955.
In 1952 Bevan published an account of his political beliefs entitled 'In Place of Fear'.

QUOTATIONS
He enjoys prophesying the imminent fall of the capitalist system, and is prepared to play a part, any part, in its burial, except that of mute.
- Harold Macmillan, Addressing the House of Commons, 1934.
He is one of the few people I would sit still and listen to.
- Churchill, quoted by R.A. Butler, 'The Art of the Impossible', 1982.

He was like a fire in a room on a cold winter's day.
- Constance Cummings, in Michael Foot, 'Aneurin Bevan'.
Explore-Parliament.net: Advanced Category Search
Keyword Categories:
_Politician
_Man
_Person
_Object_Sculpture
_Object_Artwork
_Object_Portrait
_Artist_Thomas
_Bevan