Richard Austen Butler, Baron Butler of Saffron Walden (1902-1982)
© 2007 Armchair Travel Co. Ltd. - This page may be used for non-commercial purposes ONLY!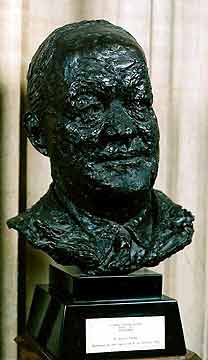 [ Play Narrated and Animated Movie ! ]
[ Virtual Tour ] [ Main Topics Index ]





I think the Prime Minister has to be a butcher, and know the joints. That is perhaps where I have been not quite competent - in knowing the ways that you cut up a carcass.
- R A. Butler in an interview on BBC Television, printed in The Listener, 1966.

Additional Information on
Richard Austen Butler, Baron Butler of Saffron Walden (1902-1982)

Richard Austen Butler, or 'Rab' for short, was elected to Parliament as the Conservative representative for Saffron Walden in 1929. He was a highly competent parliamentarian, and moved quickly through the offices of state. In the 1930's he became Foreign Secretary and his ministries governed India, and other foreign affairs. He also held the positions of Chancellor of the Exchequer, Home Secretary, and was considered for the premiership on a number of occasions but never attained the office.
In 1940 he assumed a position in the Foreign Office under Winston Churchill, and was later transferred to the domestic sector as President of the Board of Education. In this position he developed the Education Act of 1944, and was instrumental in the setting up of an international educational body later to become UNESCO. In 1951 Butler became Chancellor of the Exchequer and four years later, Lord Privy Seal under Prime Minister Anthony Eden. After Eden's resignation following the Suez crisis in 1956, Butler was considered for the premiership but lost to Harold Macmillan. Butler was leader of the House of Commons between 1955 and 1961, and then was made Foreign Secretary again. In 1965 he was created Baron Butler of Saffron Walden, and in 1971 was made a Knight of the Garter.

QUOTATION
If you're not made Pope in the Roman Catholic Church, you can still be a perfectly good Cardinal Archbishop of Milan.
- Remark on failing to become Prime Minister, BBC Television 1963.
Explore-Parliament.net: Advanced Category Search
Keyword Categories:
_Object_Portrait
_Object_Artwork
_Object_Sculpture
_Politician
_Man
_Person
_Artist_Conner
_Butler