Ceremonies within Westminster Hall
© 2007 Armchair Travel Co. Ltd. - This page may be used for non-commercial purposes ONLY!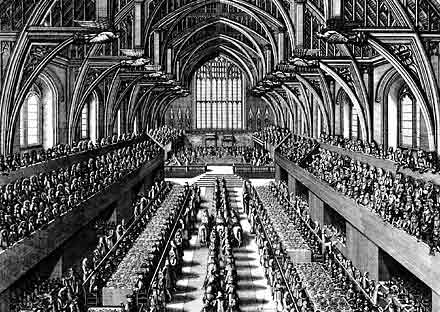 [ Play Narrated and Animated Movie ! ]
[ Virtual Tour ] [ Main Topics Index ]





Westminster Hall has been used for many great State Ceremonies and Coronation feasts - from that of King Stephen through to George IV. [Up until the seventeenth century on the day of the King's Coronation he came in procession by river from the Tower to Westminster Hall, where he was elevated on the 'Marble Chair' before he proceeded to the Abbey for his coronation.]
When the Coronation banquets were held within Westminster Hall, it was traditional for the King's Champion to ride in dressed in full armour and challenge anyone who disputed the King's Divine Right to succeed the throne. At the coronation banquet of William and Mary when the King's Champion rode in and flung down the gauntlet in challenge, as was the ancient custom, an old crone picked it up and ran off, leaving her glove with a challenge in it to meet her at Hyde Park the next day.
The last traditional Coronation Banquet to be held here was that of George IV in 1821. This banquet was as lavish as one would expect from such a flamboyant monarch.
"At the end of the second course the gates of the Hall were thrown open and a noble flourish of trumpets announced to all eager hearts the Champion was about to enter mounted on a piebald charger, magnificent in tricoloured plumes"
The Coronation was conducted on such a stupendous scale that the Bill of Fare was:
"Hot dishes 160 tureens of soup, 80 of turtle, 40 of rice and 40 vermicelli; 160 dishes of fish, comprising 80 of turbot, 40 of trout, 40 of salmon, 160 hot joints...
Cold dishes. 80 dishes of braised ham, 80 dishes of daubed geese...
Total quantities, 7,442 lbs of beef, 7,133 lbs of veal, 250 lbs of suet, 160 geese, 84 hundred eggs"
For the Coronations of George V, George VI and H M Queen Elizabeth II luncheons were served within the Hall, for the Members of both Houses of Parliament.
The Hall is still used for the lying-in-state of Royalty and of other very important people. The brass tablets on the floor record such persons as King Edward VII, King George V, William Gladstone and Sir Winston Churchill.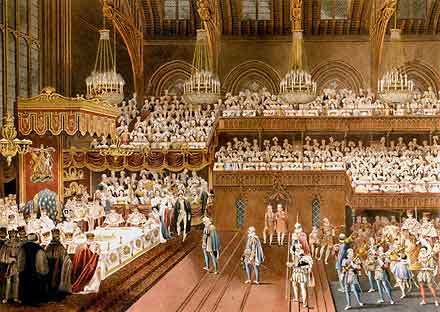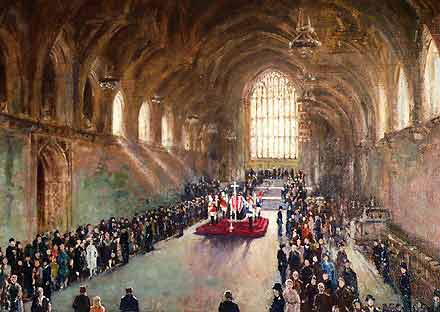 Explore-Parliament.net: Advanced Category Search
Keyword Categories:
_Event_Historical
_Setting_Westminster
_Setting_England
_Ceremonies