Elizabeth of York (1465-1503)
© 2007 Armchair Travel Co. Ltd. - This page may be used for non-commercial purposes ONLY!


[ Play Narrated and Animated Movie ! ]
[ Virtual Tour ] [ Main Topics Index ]





Elizabeth of York, the daughter of Edward IV, became something of a pawn in the diplomatic and marital schemes of the Wars of the Roses. Her marriage in 1486 to Henry VII, the victor of Bosworth, followed a petition presented to the king by Parliament, and effectively ended those Wars. Pious and beloved by the people, Elizabeth died in 1503.
The queen's head is derived from the bronze funeral effigy in nearby Westminster Abbey; the rest is drawn from a wall-painting by Holbein, which survives in a 17th century copy.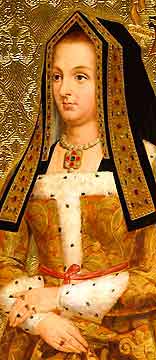 Additional Information on
Elizabeth of York (1465-1503)

Elizabeth was the pampered eldest child of Edward IV and Elizabeth Woodville and had lived happily until the death of her father in 1483 and the seizure by Richard (III) of the crown. She was taken into sanctuary in Westminster Abbey by her mother. Richard III immediately declared her and her brothers and sisters bastards in order to make his position more secure. She was then shocked to learn that he wanted to make her his second wife, even though he was her uncle and had probably murdered her brothers, the two Princes in the Tower. After Richard's death at the battle of Bosworth Field, her mother agreed to her marriage to Henry VII and she was crowned at Westminster in 1486 aged 20, after Henry had legitimised her by Act of Parliament.
Their first son, Arthur, was born prematurely later that year and Elizabeth had another six children between then and 1503 whilst her husband was consolidating his position and dealing with usurpers such as Simnel and Warbeck. He had to have the Earl of Warwick executed for treason, in spite of Elizabeth's pleading, in order to placate the concerns of King Ferdinand of Aragon so that the marriage of his daughter, Catherine to Arthur could proceed. Elizabeth was an excellent wife to Henry but somewhat remiss as a mother, so that role was fulfilled by her mother-in-law, Margaret Beaufort. Nevertheless three of Elizabeth's children died young and it was a terrible blow when Arthur died also, just a few months after his wedding.
They were determined to have another child but unfortunately Elizabeth died in childbirth, as did the baby, leaving an inconsolable Henry. She was buried in Westminster Abbey in Henry VII's magnificent new chapel. Without her restraining influence, his meanness became paramount and he then bullied Catherine into marrying his son Henry, whom he tried hard to keep under his control at all times. Before he died in 1509, Henry ensured that the form of a deck of playing cards was standardised and that Elizabeth appeared on them then as now, holding a Tudor rose, as the 'Queen of Hearts'.

QUOTATIONS
'One of the most gracious and best loved princesses in the world in her time being'
- Verdict of her people upon her death, 1503.
Delivered from sorrow, annexed to pleasance,
Of all comfort having abundance.
This joy and I, I trust, shall never twin -
My heart is set upon a lusty pin.
- Her poem, 'My Heart is set upon a Lusty Pin',
in 'The Women Poets in English', 1972.
Explore-Parliament.net: Advanced Category Search
Keyword Categories:
_Object_Portrait
_Object_Artwork
_Object_Painting
_Artist_Royal_School_of_Art
_Queen
_Royal_Family
_Woman
_Person
_Consort
_Elizabeth_of_York