Francis II of France (b.1544 r.1559-1560)
© 2007 Armchair Travel Co. Ltd. - This page may be used for non-commercial purposes ONLY!


[ Play Narrated and Animated Movie ! ]
[ Virtual Tour ] [ Main Topics Index ]





François II, the eldest son of Henri II and Catherine de Medici, married Mary, Queen of Scots in 1558, one year before his accension to the French throne. During his brief reign, Mary's uncles, the Duc de Guise and the Cardinal of Lorraine were the effective rulers. He died in 1560.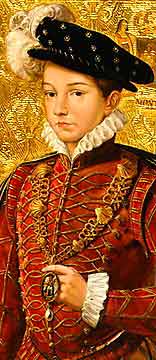 Additional Information on
Francis II of France (b.1544 r.1559-1560)

Francis was married to Mary, Queen of Scots in 1558 at the age of 14, she being 18. This marriage was greatly to the advantage of the Guise family as Mary was the niece of the Duke of Guise. The Guises dominated Francis during his reign, their aim being to break the power of the Protestant Huguenots. The Huguenot leader, the Prince of Condé, Louis de Bourbon, instigated a coup d'etat at Amboise in 1560 when he and his fellow plotters surrounded the chateau and tried to seize the king. The plot failed and the conspirators were mercilessly pursued, which helped the Guise faction, although Francis' mother tried to moderate the situation.
To try and secure peace the 'States General' was recalled, but Francis died soon after, which reduced the Guises influence and saved Louis de Bourbon, who was pardoned. Francis was succeeded by his younger brother Charles IX. Mary, who is still known in France as Mary, Queen of France, returned to Scotland the next year. It is said that she was genuinely fond of the somewhat sickly boy but they probably never became lovers.
Explore-Parliament.net: Advanced Category Search
Keyword Categories:
_King
_Royal_Family
_Man
_Person
_Artist_Royal_School_of_Art
_Object_Painting
_Object_Artwork
_Object_Portrait
_Francis_II_