Arthur, Prince of Wales (1486-1502)
© 2007 Armchair Travel Co. Ltd. - This page may be used for non-commercial purposes ONLY!


[ Play Narrated and Animated Movie ! ]
[ Virtual Tour ] [ Main Topics Index ]





Prince Arthur, the eldest son of Henry VII and Elizabeth of York, married Catherine of Aragon at the age of 15. He died the following year, and Catherine later married Arthur's brother, Prince Henry, the future Henry VIII.
The portrait is mistakenly derived from a painting which is now known to show the children of King Christian of Denmark.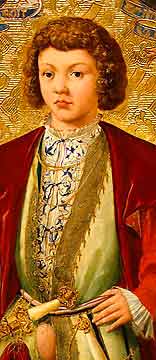 Additional Information on
Arthur, Prince of Wales (1486-1502)

Arthur was the sickly eldest son of Henry VII and was betrothed to Catherine of Aragon at the age of 14, after a treaty of alliance with Spain had been signed the previous year in 1499. Catherine travelled to England with her dowry of 200,000 gold crowns and a large retinue arriving in Plymouth in October 1501. Henry VII journeyed part of the way with his son to meet her, and the Spanish were so horrified by Arthur's appearance that they insisted he be physically examined by their doctors. Nothing amiss was found, even though he was probably suffering from tuberculosis.
In any event, the wedding at St. Paul's Cathedral in November was greeted enthusiastically by the populace not to mention the fortnight of celebrations that followed. The newlyweds then left for Arthur's official residence at Ludlow Castle, where he fell seriously ill and died in her arms in early April the next year. A key question remains as to whether the marriage was consummated. This is not impossible for a consumptive, even in the advanced stages, and he claimed to his friends after their wedding night that he had 'been in Spain all night', however Catherine always insisted that it had not happened and that she was a virgin on her marriage to Henry VIII. Her father immediately arranged for her marriage to Henry when he heard the news of Arthur's demise.

QUOTATIONS
Last night I was in Spain.
- Prince Arthur commenting on the morning after his wedding to Catherine of Aragon.
The Rosebush of England.
- Elizabeth of York's nickname for her first born child.
Explore-Parliament.net: Advanced Category Search
Keyword Categories:
_Object_Painting
_Object_Artwork
_Object_Portrait
_Artist_Royal_School_of_Art
_Man
_Person
_Royal_Family
_Arthur