Jane Seymour (1509-1537)
© 2007 Armchair Travel Co. Ltd. - This page may be used for non-commercial purposes ONLY!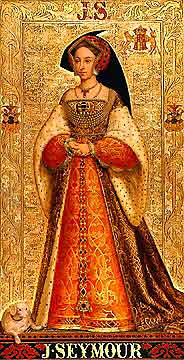 [ Play Narrated and Animated Movie ! ]
[ Virtual Tour ] [ Main Topics Index ]





Henry VIII's third wife, Jane Seymour, was one of Anne Boleyn's ladies in waiting when she caught the eye of Henry VIII. She refused his advances while Anne was alive, but married him after her execution. In 1537 Jane bore Henry his only surviving son, the future Edward VI, but died soon after childbirth, leaving Henry inconsolable - for a time.
Of all the wives of King Henry she only had the happiness to die in his full favour, the 14th of October 1537 and is buried in the quire of Windsor Chapel, the King continuing in real mourning for her even all the Festival of Christmas.
- Thomas Fuller, The History of the Worthies of England.



Additional Information on
Jane Seymour (1509-1537)

Jane Seymour was lady-in-waiting to both her predecessors, Catherine of Aragon and Anne Boleyn, before being picked out by Henry VIII in 1535. She and the King were married the following year, a day or two after the execution of Anne. She was proclaimed Queen two weeks later but the coronation was delayed because of an outbreak of the plague and in the end it never took place; perhaps because Henry was becoming more cautious.
She helped persuade Henry to make an agreement with his daughter Mary, letting her return from exile on condition that she acknowledged him as head of the church, renounced Rome and announced that her own birth was illegitimate. Jane also begged Henry not to dissolve the monasteries which, although the move would greatly benefit the crown and nobility, would remove the support systems for the poor.
The next momentous event of Jane's life occurred in 1537 when she gave birth to a boy, named Edward, amidst general rejoicing, especially by the King, who called her his 'best-beloved'. Unfortunately, after a difficult birth, Jane allowed herself to become involved in the celebrations before she was strong enough and died just 12 days after. Henry genuinely mourned his loss and later, on his own deathbed, gave Jane's brother Edward the title of Duke of Somerset and Regent and Protector of the young Edward. Meanwhile she was buried at Windsor where he was later buried beside her.
Explore-Parliament.net: Advanced Category Search
Keyword Categories:
_Object_Portrait
_Object_Artwork
_Object_Painting
_Artist_Royal_School_of_Art
_Queen
_Royal_Family
_Woman
_Person
_Consort
_Topic_Henry_VIII
_Jane_Seymour