Catherine Parr (1512-1548)
© 2007 Armchair Travel Co. Ltd. - This page may be used for non-commercial purposes ONLY!


[ Play Narrated and Animated Movie ! ]
[ Virtual Tour ] [ Main Topics Index ]





Catherine Parr, Henry VIII's sixth and final wife was twice a widow when in 1543 she was prevailed upon to marry him. Katherine showed great kindness to her royal step-children and it seems this marriage was purely one of convenience. Katherine outlived her husband, and died in 1548.
The portrait on which this is based is now known to be that of Lady Jane Grey.

We be yet so carnal and fleshy, that we run headlong like unbridled colts, without snaffle or bit.
If we had the love of God printed in our hearts, it would keep us back from running astray. And until such time as it pleases God to send us this bit to hold us in, we shall never run the right way, although we speak and talk never so much of God and His word.
- quoted in Mary Tudor: The White Queen, 1970.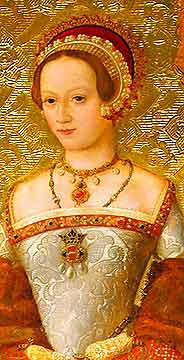 Additional Information on
Catherine Parr (1512-1548)

Catherine Parr, Henry's sixth and last wife was well-educated and much more of an intellectual than the majority of her contemporaries. It seems that they were mutually attracted, partly because she was used to looking after older men - her first two husbands had been much older than her - and because he had, at last, tired of passionate youth. After their marriage and her coronation in 1543, she ensured, as usual, the preferment of her family, at the expense of the Howards, and filled the court with scholars and academics. The pro-Catholic party including the Howards, Bishop Gardiner and the Lord Chancellor were alarmed by her Protestant sympathies and managed to persuade the King to have her arrested in 1546. Her own persuasiveness saved her and she relied increasingly on the Seymours from then on.
The Duke of Norfolk, and in particular his son Surrey, finally went too far and were arrested for treason and their enormous wealth and estates confiscated. In early 1547, Surrey was executed and his father was due to be beheaded but on that exact same day Henry died. Norfolk remained in the Tower until he died in 1554.
Catherine secretly married Sir Thomas Seymour, who had been her suitor before Henry, and died in childbirth aged 36 in 1548. Her husband rashly plotted against his brother Somerset and was beheaded six months later.

QUOTATION
We be so busy and glad to find and spy out other men's doings that we forget and can have no time to weigh and ponder our own.
- quoted in Mary Tudor: The White Queen, 1970.
Explore-Parliament.net: Advanced Category Search
Keyword Categories:
_Object_Portrait
_Object_Artwork
_Object_Painting
_Artist_Royal_School_of_Art
_Queen
_Royal_Family
_Woman
_Person
_Consort
_Topic_Henry_VIII
_Catherine_Parr