Mary I (b1516 r.1553-1558)
© 2007 Armchair Travel Co. Ltd. - This page may be used for non-commercial purposes ONLY!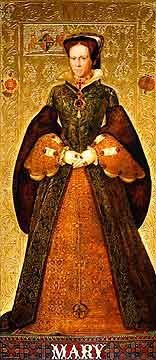 [ Play Narrated and Animated Movie ! ]
[ Virtual Tour ] [ Main Topics Index ]





Mary I was daughter of Henry VIII and his first wife Catherine of Aragon. After the deposing of Lady Jane Grey in 1553, Mary was declared Queen. Her attachment to the Catholic faith led her to marry Philip II of Spain, and to persecute her Protestant subjects - earning her the title 'Bloody Mary'. She died in 1558.

When I am dead, and my body is opened, ye shall find Calais written on my heart.
- Mary Tudor, on the loss of Calais to the French.
I should have thought, if anything were written on her heart, they would have found the words: Jane Grey, Hooper, Rogers, Ridley, Latimer, Cranmer and three hundred people burnt alive within four years of my wicked reign, including sixty women and forty little children. But it is enough that their deaths were written in Heaven.
- Charles Dickens.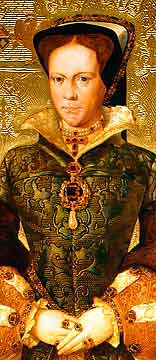 Additional Information on
Mary I (b1516 r.1553-1558)

Mary was the daughter of Henry VIII and his first wife, Catherine of Aragon. Her first acts on becoming queen were to have the Duke of Normandy and Lady Jane Grey executed, and to re-establish the Catholic Church of which she was, like her mother, a fervent supporter. The humiliation of her parent's divorce and her denied succession to her father's throne made Mary a very bitter person, and had strengthened her Catholic faith. Mary had over one hundred people executed almost in retaliation to this and had her own half sister Elizabeth imprisoned. In 1554 Mary married the Catholic Prince Philip of Spain, but theirs was to be an unhappy marriage and after failing to produce an heir Philip left her to rule Spain. The despondent Mary embarked on a major persecution of the Protestants burning many at the stake - earning her the nickname 'Bloody Mary'. In 1557 England lost Calais her last piece of French territory, Mary died the following year childless and embittered.

QUOTATION
She is of low stature, with a red and white complexion, and very thin; her eyes are white and large, her hair reddish; her face is round, with a nose rather low and wide; and were not her age on the decline she might be called handsome rather than the contrary.
- Giacomo Soranzo.
Explore-Parliament.net: Advanced Category Search
Keyword Categories:
_Object_Portrait
_Object_Artwork
_Object_Painting
_Artist_Royal_School_of_Art
_Queen
_Royal_Family
_Woman
_Person
_Mary_I_