Anne of Cleves (1515-1557)
© 2007 Armchair Travel Co. Ltd. - This page may be used for non-commercial purposes ONLY!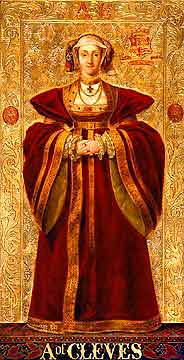 [ Play Narrated and Animated Movie ! ]
[ Virtual Tour ] [ Main Topics Index ]





The fourth wife of Henry VIII, Anne of Cleves, was suggested by Henry's chief minister for diplomatic reasons. They married in 1540 not long after the death of Jane Seymour. However, Henry was not particularly enamoured with Anne and soon divorced her on the grounds that she was too ugly and dull. She was given the title of the 'King's Sister' and a very comfortable endowment.
The portrait is chiefly based on an engraving by Wenceslaus Hollar.

The King no sooner heard that Anne of Cleves had landed at Rochester than he went thither incognito, to see his future comfort, and found her so different from her picture, which had been drawn by Holbein, that in the impatience of his disappointment he swore they had brought him a Flanders mare.
- Tobias Smollett, The History of England, 1757. Henry's remark to Thomas Cromwell on meeting Anne of Cleves, 1539.



Additional Information on
Anne of Cleves (1515-1557)

At Henry's behest, Cromwell (Chancellor) searched Europe for a suitable bride for his master thinking that a foreign bride would be helpful to his foreign strategy and minimize the problems with preferment of her relatives as had happened with both Anne Boleyn and Jane Seymour. The principal difficulty that Cromwell faced was that Henry's bad reputation as a husband ensured most of the likely candidates, such as Mary of Guise, either quickly married someone else, in her case James V of Scotland, or immediately turned him down.
Anne was a member of a Lutheran family whose territory lay between the France of Francis I and the Holy Roman Empire of Charles V, who Henry believed were planning to combine forces and invade England. The court painter Holbein was sent off to paint her picture and produced such a flattering image that Henry determined to marry her.
On her arrival in England, the Earl of Southampton and Geoffrey, Cromwell's son, were so appalled by her overweight and ungainly, not to say ugly, appearance that they could think only of delaying the meeting with Henry. When he saw her he complained to Cromwell that he had brought him a 'Flanders mare' and refused to marry her, let alone touch her. Cromwell could find no reason to prevent the match and the Howards rapidly took advantage of the situation by insinuating the young Catherine Howard into Henry's affections - with a chaperon always at hand. Cromwell was sent to the Tower, after he had arranged a divorce, and it turned out that there was no substance to the rumours of a Continental alliance against England.
Anne was very well treated, for once, having been given Richmond Palace and a retinue, was also told she was welcome at court, as a reward for causing no trouble in agreeing at once to the divorce. In 1540 Cromwell was executed on the same day that Henry married Catherine Howard. Anne looked after the royal children; Elizabeth was a favourite of hers, and lived happily in England until she died in 1557. She was buried with royal honours in Westminster Abbey, by order of Queen Mary.

QUOTATIONS
There is no remedy but to put my head into the yoke.
- Henry VIII to Thomas Cromwell on agreeing to marry Anne of Cleves.
By her breasts she should be no maid; which, when I felt them, strake me so to the heart that I had neither will nor courage to prove the rest.
- Henry VIII to Thomas Cromwell after his wedding night.
Explore-Parliament.net: Advanced Category Search
Keyword Categories:
_Object_Portrait
_Object_Artwork
_Object_Painting
_Artist_Royal_School_of_Art
_Queen
_Royal_Family
_Woman
_Person
_Consort
_Topic_Henry_VIII
_Anne_of_Cleeves