Mary Tudor (1496-1533)
© 2007 Armchair Travel Co. Ltd. - This page may be used for non-commercial purposes ONLY!


[ Play Narrated and Animated Movie ! ]
[ Virtual Tour ] [ Main Topics Index ]





Princess Mary, the beloved younger sister of Henry VIII, was married at the age of 18 to King Louis XII of France. As Queen of France, Mary had among her ladies in waiting, Anne Boleyn, who was to become the second wife of Henry VIII. When Louis died in 1515, Mary immediately married Charles Brandon, Duke of Suffolk. She died in 1533.

Sir, your Grace knoweth well that I did marry for your pleasure ... and now I trust you will suffer me to marry as me liketh for to do.
- Letter to her brother, Henry VIII, 1514 -1515, quoted in Mary Tudor: The White Queen, 1970.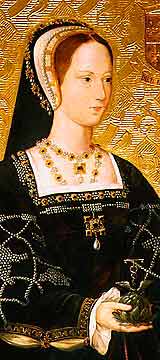 Additional Information on
Mary Tudor (1496-1533)

Mary was first betrothed by her father, Henry VII to the Archduke Charles, later the Holy Roman Emperor - Charles V, in 1507 at the age of eleven. However, Mary's brother, Henry VIII broke that off and arranged her marriage to Louis XII in 1514 in order to cement relations with France. It was known that Louis was a dying man at the age of 52 and Mary extracted a promise from her brother that, if she married Louis to please him, she would be free to marry the man she wanted after Louis' death. She was Henry's favourite sister and was both beautiful and charming so it was a huge disappointment to her when, after Louis' death, Henry insisted that she marry his successor, Francis I.
This was not to Francis's taste either, so when Mary's man of choice, Charles Brandon, lately made 1st Duke of Suffolk (a favourite of Henry's), was sent over to France to oversee the situation, she begged a terrified Suffolk marry her. He was fearful of incurring the King's wrath by disobeying his orders, a treasonable offence, but nevertheless secretly married Mary in Paris in 1515. Suffolk managed to get back in favour with Henry by paying a large sum of money and was helped in this by Cardinal Wolsey's intervention.
After this they were happily married for many years until her death in 1533. One of Mary's daughters was the mother of Lady Jane Grey, to be queen for nine days in 1553.

QUOTATION
God's will sufficeth me. (La voloritè de Dieu me suffit).
- Personal motto, 1514, quoted in Mary Tudor: The White Queen, 1970.
Explore-Parliament.net: Advanced Category Search
Keyword Categories:
_Object_Portrait
_Object_Artwork
_Object_Painting
_Artist_Royal_School_of_Art
_Royal_Family
_Woman
_Person
_Mary_Tudor