Mary de Guise (1515-1560)
© 2007 Armchair Travel Co. Ltd. - This page may be used for non-commercial purposes ONLY!


[ Play Narrated and Animated Movie ! ]
[ Virtual Tour ] [ Main Topics Index ]





Mary de Guise became second wife of James V in 1538, and was the mother of Mary, Queen of Scots. In 1554 she became Regent of Scotland, pursuing a policy of closeness between Scotland and her native France, where her daughter Mary was then living, betrothed to the Dauphin. When civil war broke out, Mary took refuge in Edinburgh Castle, and died there in 1560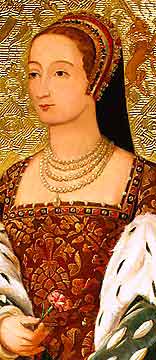 Additional Information on
Mary de Guise (1515-1560)

Mary was the daughter of the Duke of Guise in Lorraine, and married first the Duke of Longueville in 1534 aged 19, but he died three years later. Mary then hastily married James V of Scotland the next year, alarmed by Henry VIII's eye falling on her as a possible fourth wife. In 1542 they had a daughter, Mary, but her husband died only a few days later, broken by the defeat of his army by the English at Solway Moss.
When the Earl of Arran resigned as Regent in 1554, Mary took over and acted for her 12-year-old daughter, and four years later arranged for her to be married to the Dauphin, Francis II, heir to the French throne. Up to this point she had tolerated the Protestant movement in Scotland and enjoyed their support, but French pressure caused her to clamp down on them, resulting in a revolt in Perth in 1559.
The French helped Mary re-capture Edinburgh, but the English landed at Leith the next year and she had to retire to Edinburgh Castle. Her last wishes, that the nobility get rid of both foreign armies and support her daughter Mary were respected, although Mary, now Queen of Scots, was unable to rule effectively and was in due course deposed.
Explore-Parliament.net: Advanced Category Search
Keyword Categories:
_Object_Portrait
_Object_Artwork
_Object_Painting
_Artist_Royal_School_of_Art
_Queen
_Royal_Family
_Woman
_Person
_Consort
_Mary_de_Guise