Mary Queen of Scots (1542-1587)
© 2007 Armchair Travel Co. Ltd. - This page may be used for non-commercial purposes ONLY!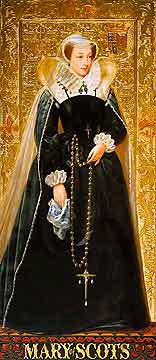 [ Play Narrated and Animated Movie ! ]
[ Virtual Tour ] [ Main Topics Index ]





Having become Queen in her infancy , Mary Queen of Scots was sent to France at the age of six, where she was betrothed to the Dauphin François.
They were married in 1558, but he died two years later. Mary returned to Scotland. The death of her second husband, Darnley, embroiled her in scandal. After a number of catholic plots, aimed at placing her on the English throne, Mary was taken prisoner by her cousin Elizabeth I in 1568. After hesitating for several years, Elizabeth was finally persuaded to consent to her execution in 1587. Her son by Darnley became James VI of Scotland, and James I of England.
It would be idle to dwell on the story of this princess, too well known for having the misfortune to be born in the same age, in the same island with, and to be handsomer than Elizabeth.
- Horace Walpole, Catalogue of the Royal and Noble Authors.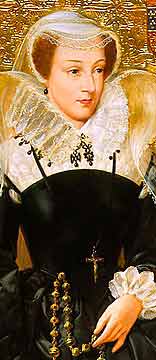 Additional Information on
Mary Queen of Scots (1542-1587)

Mary was Elizabeth's Catholic cousin and was therefore seen as a threat. When Mary's husband Francis became the King of France, Mary began to call herself 'Queen of England and Scotland'. On his death Mary returned to Scotland and was soon deposed and imprisoned - suspected of being involved in the murder of her second husband. Mary escaped and asked for Elizabeth's help, but Elizabeth held her semi-captive. However, Mary still managed to remain the focus of Catholic plotting, and in 1586 Mary was found to have joined in a plot to kill Elizabeth. Mary had been Elizabeth's captive for nineteen years and reluctantly Elizabeth had to give the order for Mary's execution - she met her death with great courage.

QUOTATIONS
Mary, Mary, quite contrary,
How does your garden grow?
With silver bells, and cockle shells
And pretty maids all in a row.
- Nursery Rhyme traditionally taken to refer to Mary.
Greater abomination was never in the nature of any woman than is in her, whereof we have seen but the bud.
- John Knox, History of the Reformation in Scotland.
Mary had the weakness to set up a claim to a greater kingdom than her own, without any army; and was at last reduced by her crimes to be a saint in a religion which was opposite to what her rival professed out of policy.
- Horace Walpole, Catalogue of the Royal and Noble Authors.
The Queen of Scots is lighter of a fair son, and I am but barren stock.
- Elizabeth I, commenting upon the birth of James VI of Scotland.
Explore-Parliament.net: Advanced Category Search
Keyword Categories:
_Object_Portrait
_Object_Artwork
_Object_Painting
_Artist_Royal_School_of_Art
_Queen
_Royal_Family
_Woman
_Person
_Mary_Queen_of_Scots