The Burial of the Unknown Warrior in Westminster Abbey
© 2007 Armchair Travel Co. Ltd. - This page may be used for non-commercial purposes ONLY!


[ Play Narrated and Animated Movie ! ]
[ Virtual Tour ] [ Main Topics Index ]





This painting by Frank O. Salisbury commemorates a solemn event which took place in nearby Westminster Abbey in 1920. The body of an unknown combatant had been disinterred from the European soil where he had fallen during the Great War of 1914-1918. His identity - even the branch of the services in which he had fought - was unknown. The grave at the west end of the nave was filled with soil from France, and was covered by a slab of black Belgian marble. The Dean of Westminster preached a sermon on the text:
They buried him among the Kings, because he had done good toward God and toward his house.
- Dean Ryle.
On the left hand side stand the Archbishop of Canterbury (with his back to us), the Dean of Westminster who is reading the sermon, and Queen Mary and Queen Alexandra who stand in the background. On the right hand side, the painting shows King George V and behind him, the Prince of Wales (the future Edward VIII), his younger brother the Duke of York (the future George VI) and Prince Henry.
Through the grave of the Unknown Warrior are honoured all those who fell in the Great War. Since then it has also commemorated the new wars which have succeeded that war which was supposed to end wars.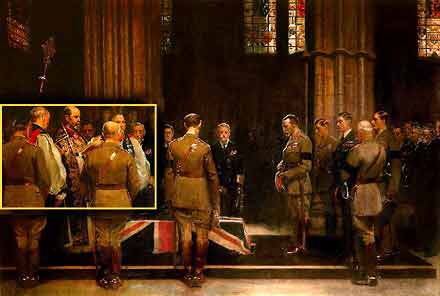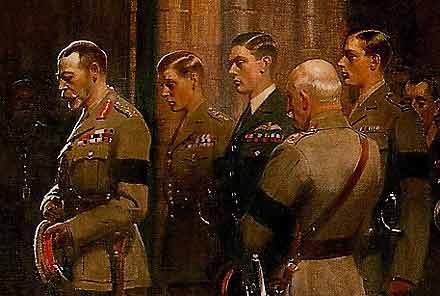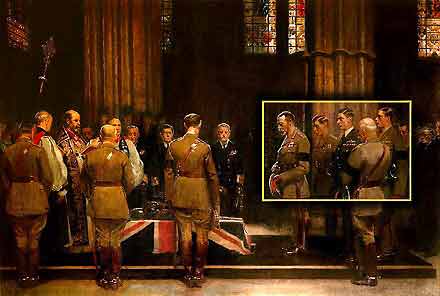 Explore-Parliament.net: Advanced Category Search
Keyword Categories:
_Setting_Westminster
_Setting_England
_Object_Painting
_Object_Artwork
_Event_Historical
_Artist_Salisbury
_King
_Royal_Family
_Man
_Person
_Queen
_Woman
_Consort
_Warrior