King Alfred inciting the Saxons to repel the Danes
© 2007 Armchair Travel Co. Ltd. - This page may be used for non-commercial purposes ONLY!


[ Play Narrated and Animated Movie ! ]
[ Virtual Tour ] [ Main Topics Index ]





G.F. Watts' painting recalls in theme a painting in St Stephen's Hall by Colin Gill. Both owe their presence at the Houses of Parliament to the fact that King Alfred was seen as the founder of a British National Navy, since he raised a fleet to repel the invading Danes. In fact, there was to be no regular standing navy in Britain for many centuries after Alfred.
Watts painted this picture while he was in Italy in 1846. He had learned that the Commissioners proposed to hold a competition for oil painters, with a view to awarding commissions for the new Palace of Westminster. In a letter of 1847 Watts wrote of this picture:
I have endeavoured to give Alfred as much energy, dignity and expression as possible, without exaggeration.
- Watts
Although Watts was admired in his day, and despite the advocacy of Ruskin, he remained an isolated figure in the world of art, and besides this picture there is only one other by him in the Palace of Westminster: that of the 'Red Cross Knight' in the Upper Waiting Chamber.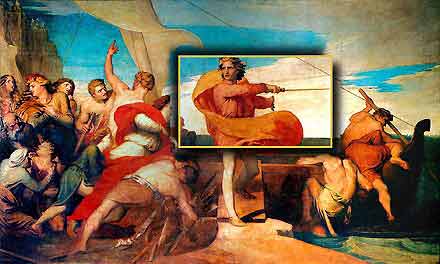 Explore-Parliament.net: Advanced Category Search
Keyword Categories:
_Setting_England
_Object_Painting
_Object_Artwork
_King
_Royal_Family
_Man
_Person
_Event_Historical
_Alfred