Sir Galahad's soul borne to Heaven
© 2007 Armchair Travel Co. Ltd. - This page may be used for non-commercial purposes ONLY!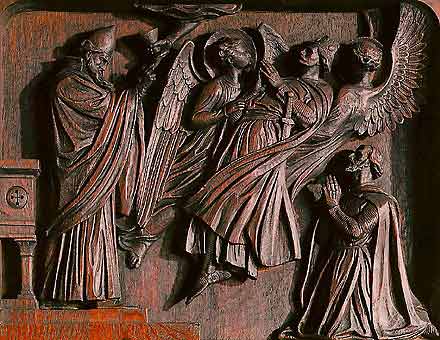 [ Play Narrated and Animated Movie ! ]
[ Virtual Tour ] [ Main Topics Index ]





On the old king's death the people of the city of Sarras called for the youngest of the three knights to be their king. And so, Sir Galahad was crowned king.
Now at the year's end, and the self day after Galahad had borne the crown of gold, he arose up early, and his fellows, and came to the palace, and saw before them the holy vessel, and a man kneeling on his knees, in likeness of a bishop, that had about him a great fellowship of angels, as it had been Jesu Christ himself.
- Malory.
The man called Sir Galahad to him, and explained to him that his quest was now fulfilled. So Sir Galahad bade farewell to Sir Percival and Sir Bors,
And therefore he kneeled down before the table and made his prayers, and then suddenly his soul departed to Jesu Christ, and a great multitude of angels bare his soul up to heaven.
- Malory.
Explore-Parliament.net: Advanced Category Search
Keyword Categories:
_Topic_Arthur_Legend
_Event_Literary
_Object_Relief
_Object_Artwork
_Artist_Armstead
_Man
_Person
_Malory