Sir Galahad receives the sword with the strange girdels
© 2007 Armchair Travel Co. Ltd. - This page may be used for non-commercial purposes ONLY!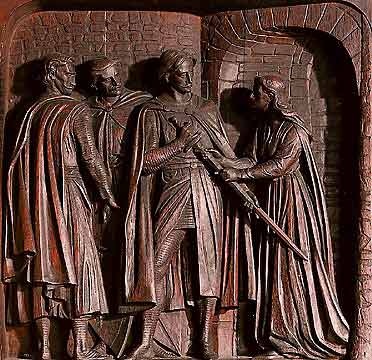 [ Play Narrated and Animated Movie ! ]
[ Virtual Tour ] [ Main Topics Index ]





King Arthur took Sir Galahad by the hand and led him to the lake to show him a stone which had risen from the depth of the waters. The stone appeared to float upon the water and in it was a bright sword with handles wrought with precious stones and gold. Upon the sword were written the words: 'Never shall man take me hence but only he by whose side I ought to hang, and he shall be the best knight of the world'. Arthur instructed Galahad to try and pull out the sword, after all the other knights had failed.
And anon he laid his hand on the sword, and lightly drew it out of the stone, and put it in the sheath.
- Malory.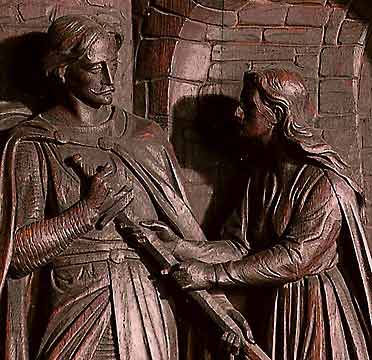 Explore-Parliament.net: Advanced Category Search
Keyword Categories:
_Topic_Arthur_Legend
_Event_Literary
_Object_Relief
_Object_Artwork
_Artist_Armstead
_Man
_Person
_Malory