Sir Galahad brought unto the Siege Perilous
© 2007 Armchair Travel Co. Ltd. - This page may be used for non-commercial purposes ONLY!


[ Play Narrated and Animated Movie ! ]
[ Virtual Tour ] [ Main Topics Index ]





The Round Table had one seat that had never been filled. It was named the 'Siege Perilous' because it was known that any who sat on it, who was not meant for it, would perish. However, during one particular feast of Pentecost, there entered into the hall an old hermit who brought with him a young knight. At once Sir Launcelot recognised him as his son, and beamed with pride.
And the old knight said unto the young knight, 'Sir follow me'. And anon, he led him unto the Siege Perilous, where beside sat Sir Launcelot, and the good man lift up the cloth, and found there letters that said thus: This is the siege of Galahad the high prince. Sir, said the old knight, wit ye well that place is yours. And then he set him down surely in that siege.
- Malory.
Then all the knights flocked around Sir Galahad and not knowing where he came from, other than from God, agreed that this would be the man who would find them the Holy Grail.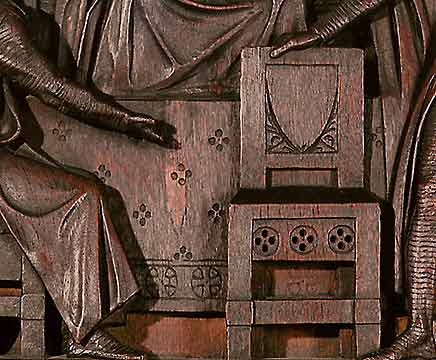 Explore-Parliament.net: Advanced Category Search
Keyword Categories:
_Topic_Arthur_Legend
_Event_Literary
_Object_Relief
_Object_Artwork
_Artist_Armstead
_Man
_Person
_Malory