Arthur recognised as King
© 2007 Armchair Travel Co. Ltd. - This page may be used for non-commercial purposes ONLY!


[ Play Narrated and Animated Movie ! ]
[ Virtual Tour ] [ Main Topics Index ]





After Uther's death there appeared a Sword in a Stone in St Paul's Churchyard at Christmas, and on it the inscription: 'Whoso pulleth out this sword of this stone is rightwise king born of all England.' The archbishop announced a tournament for New Year's Day.
And so it happened that Sir Ector rode unto the jousts, and with him rode Sir Kay his son and young Arthur that was his nourished brother.
- Malory.
Sir Kay's sword was lost, so he asked Arthur to ride back to the castle and bring another; but when Arthur arrived, everybody had left home to visit the tournament, so he decided to go and seize the Sword in the Stone.
'For' said he, 'my brother Sir Kay shall not be without a sword this day'. So when he came to the churchyard Sir Arthur went to the tent, and found no knights there, for they were at the jousting; and so he handled the sword by the handles, and lightly and fiercely pulled it out of the stone... and rode away till he came to his brother Sir Kay, and delivered him the sword.
- Malory.
Sir Ector asked Arthur how he had got the sword. Arthur claimed to have pulled it from the stone without any effort. He demonstrated the deed in front of Sir Ector and the other knights.
Now, said Sir Ector to Arthur, I understand ye must be king of all this land. Wherefore I, said Arthur, and for what cause? Sir, said Ector, for God will have it so: for there should never man have drawn out this sword but he that shall be rightwise king of this land.
- Malory.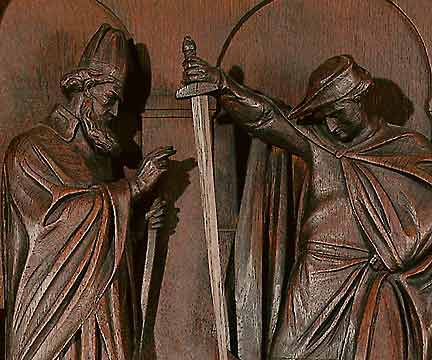 Explore-Parliament.net: Advanced Category Search
Keyword Categories:
_Topic_Arthur_Legend
_Event_Literary
_Object_Relief
_Object_Artwork
_Artist_Armstead
_King
_Man
_Person
_Malory