Arthur delivered unto Merlin
© 2007 Armchair Travel Co. Ltd. - This page may be used for non-commercial purposes ONLY!


[ Play Narrated and Animated Movie ! ]
[ Virtual Tour ] [ Main Topics Index ]





When Arthur was born, Merlin contrived that he should be passed over into the care of one of King Uther's knights, Sir Ector.
Then when the lady was delivered, the king commanded two knights and two ladies to take the child bound in a cloth of gold. 'And see that ye deliver him,' he said, 'to what poor man ye meet at the postern gate of the castle.'
So the child was delivered unto Merlin, and so he bare it forth unto Sir Ector, and made an holy man to christen him, and named him Arthur.
- Malory.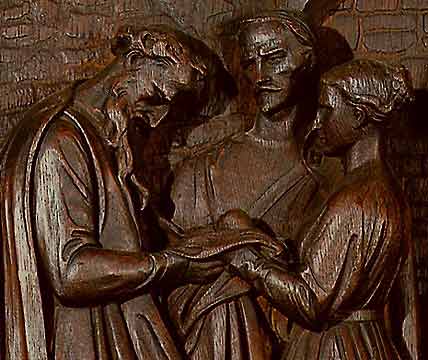 Explore-Parliament.net: Advanced Category Search
Keyword Categories:
_Topic_Arthur_Legend
_Event_Literary
_Object_Relief
_Object_Artwork
_Artist_Armstead
_King
_Man
_Person
_Malory