The Birth of King Arthur in the Castle of Tintagelle
© 2007 Armchair Travel Co. Ltd. - This page may be used for non-commercial purposes ONLY!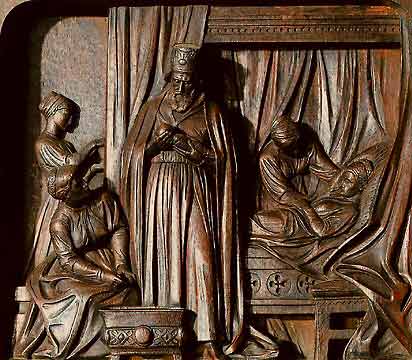 [ Play Narrated and Animated Movie ! ]
[ Virtual Tour ] [ Main Topics Index ]





Uther Pendragon, father of Arthur, loved Igraine, wife of the Duke of Cornwall. Through the magic of Merlin he visited her in the likeness of her husband who she did not know was dead. She then married Uther, and the child she bore was Arthur.
'Sir,' said she, 'the same night my lord was dead, there came into my castle of Tintagel a man like my lord in speech and countenance; and thus, as I shall answer unto God, this child was begotten'.
'That is the truth', said the king, 'for it was I myself, and I am father to the child'.
- Malory
Explore-Parliament.net: Advanced Category Search
Keyword Categories:
_Topic_Arthur_Legend
_Event_Literary
_Object_Relief
_Object_Artwork
_Artist_Armstead
_King
_Man
_Person
_Malory