Queen Anne (b.1665 r.1702-1714)
© 2007 Armchair Travel Co. Ltd. - This page may be used for non-commercial purposes ONLY!


[ Play Narrated and Animated Movie ! ]
[ Virtual Tour ] [ Main Topics Index ]





She has been called stupid: she was not stupid in the policies she adopted, but there is a certain stupidity in her personal relations with anyone against whom she had taken umbrage.
- G.M. Trevelyan, England in the Reign of Queen Anne, 1930.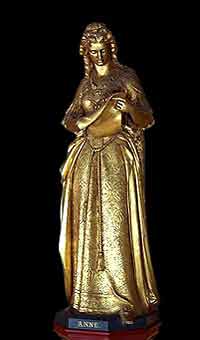 Additional Information on
Queen Anne (b.1665 r.1702-1714)

William and Mary left no children, so on their deaths the throne passed to Mary's sister Anne (Charles II's second child). It has been said that Anne took more interest in drinking tea and betting on horse races than in important matters and affairs of state. Anne had been an attractive woman in her early years, but by the time she came to the throne she was somewhat plump and had a squint.
Her reign saw Catholic warfare with France in the shape of the War of the Spanish Succession. The British successes here established the country as a major European power e.g. success at the Battle of Blenheim. At home there were upheavals in domestic politics, mostly in rivalry between the Whig and Tory factions in Parliament. In 1707 Parliamentary union between Scotland and England was achieved for the first time, when the Parliament in Scotland was abolished and the one system ruled all.
In 1683, Anne married George, Prince of Denmark, at St James' Palace. Anne's life was troubled with problems concerning her succession. She was a devoted Protestant and had joined those who fought to acquire the throne for William and Mary. However, she never forgave herself for betraying her father James, and in so doing she believed that her ill health and loss of seventeen children (failing to produce an heir) was a direct punishment for this. Because she was childless, Anne had to choose an heir and this proved a very difficult matter. The Act of Settlement in 1701 declared that the heir to the throne had to be a Protestant. The decision fell between the rightful heir, James Edward, and the ruling house of Hanover in Germany - descended from Charles I's sister Elizabeth. A German monarch was unwelcome, but the decision was made by the fact that James Edward refused to give up his Catholic faith. So on Anne's death the Hanoverians were invited to take the throne.

QUOTATIONS
When in good humour she was meekly stupid, and when in bad humour was sulkily stupid.
- T.B. Macaulay, History of the Grand Rebellion, 1861.
I fancy that anybody that had been shut up so many tedious hours as I have been, with a person that had no conversation, and yet must be treated with respect, would be... very glad... to be freed from such slavery.
- Letter, 23 April 1711.
Her subjects wre pleased to believe that she consoled herself with brandy out of a tea cup, and jokes were made about Queen Anne's cold tea.
- G.M. Trevelyan, England in the Reign of Queen Anne, 1930.
Explore-Parliament.net: Advanced Category Search
Keyword Categories:
_Object_Sculpture
_Object_Artwork
_Object_Portrait
_Artist_Philip
_Queen
_Royal_Family
_Woman
_Person
_Anne_Queen