George Hamilton-Gordon, 4th Earl of Aberdeen (1784-1860)
Coalition Prime Minister 1852-1855
© 2007 Armchair Travel Co. Ltd. - This page may be used for non-commercial purposes ONLY!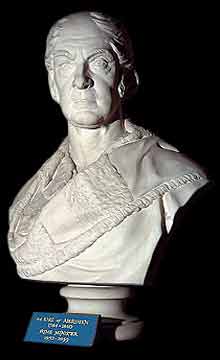 [ Play Narrated and Animated Movie ! ]
[ Virtual Tour ] [ Main Topics Index ]





On the subject of the War in the Crimea, his grief is such that at times he feels as if every drop of blood that will be shed will rest upon his own head.
- John Bright, Diary, March 1854.

Additional Information on
George Hamilton-Gordon, 4th Earl of Aberdeen (1784-1860)
Coalition Prime Minister 1852-1855

Aberdeen succeeded as the 4th Earl of Aberdeen in 1801 and four years later on his 21st birthday came into his inheritance. Aberdeen was a classical scholar in the arts and antiquities, and later on in his career became a trustee of the National Gallery and British Museum, and president of the Society of Antiquities. Although somewhat unsuccessful as a Prime Minister Aberdeen's personal and political lives were prosperous. He was happily married twice, and was a devoted husband and father.
In 1813 Aberdeen became the British Ambassador in Vienna, and over the next few years was instrumental in securing the Treaty of Paris - bringing an end to the destruction of the Napoleonic wars. A month later he was rewarded with a peerage - Viscount Gordon of Aberdeen. However, for the next fourteen years he took little part in politics, spending his time farming and with his antiquarian pursuits.
Aberdeen returned to Parliament in 1828 as one of Wellington's chancellors. He held various posts until he was promoted to Foreign Secretary in Peel's ministry of 1841. He set out to create friendly relations with France, and was successful in pulling both sides back from the brink of war.
Aberdeen was one of Peel's strongest supporters, and on his death in 1850, Aberdeen became leader of the Peelites. Two years later he became Prime Minister of a coalition government. Aberdeen's cabinet was strong, productive and effective - it included Russell as Foreign Secretary, Palmerston as Home Secretary and Gladstone as Chancellor of the Exchequer. Unfortunately this talent was too overpowering for Aberdeen's ineffectual leadership and the party's effectiveness was undermined by a feud between Russell and Palmerston. The collapse of Aberdeen's government came about as a result of British involvement in the Crimean War. Having drifted into the war mainly due to popular pressure, Britain was badly prepared to wage it. The immense criticism of the war provoked a public outcry, and in 1855 Aberdeen resigned. The Earl of Aberdeen died in 1860.

QUOTATIONS
His temper naturally morose, has become licentiously peevish. Crossed in his cabinet, he insults the House of Lords, and plagues the most eminent of his colleagues with the crabbed malice of a maundering witch.
- Benjamin Disraeli, in a Letter to the Press, 1853.
You complained of Lord Aberdeen's unceasing conversation, but with his knowledge and cleverness it was not such a bad substitute for a book.
- Lady Beesborough, Letter to Lord Leveson-Gower, Nov. 1812.
Explore-Parliament.net: Advanced Category Search
Keyword Categories:
_Object_Portrait
_Object_Artwork
_Object_Sculpture
_Peer
_Man
_Person
_Politician
_Consort
_Artist_after_Noble
_Aberdeen